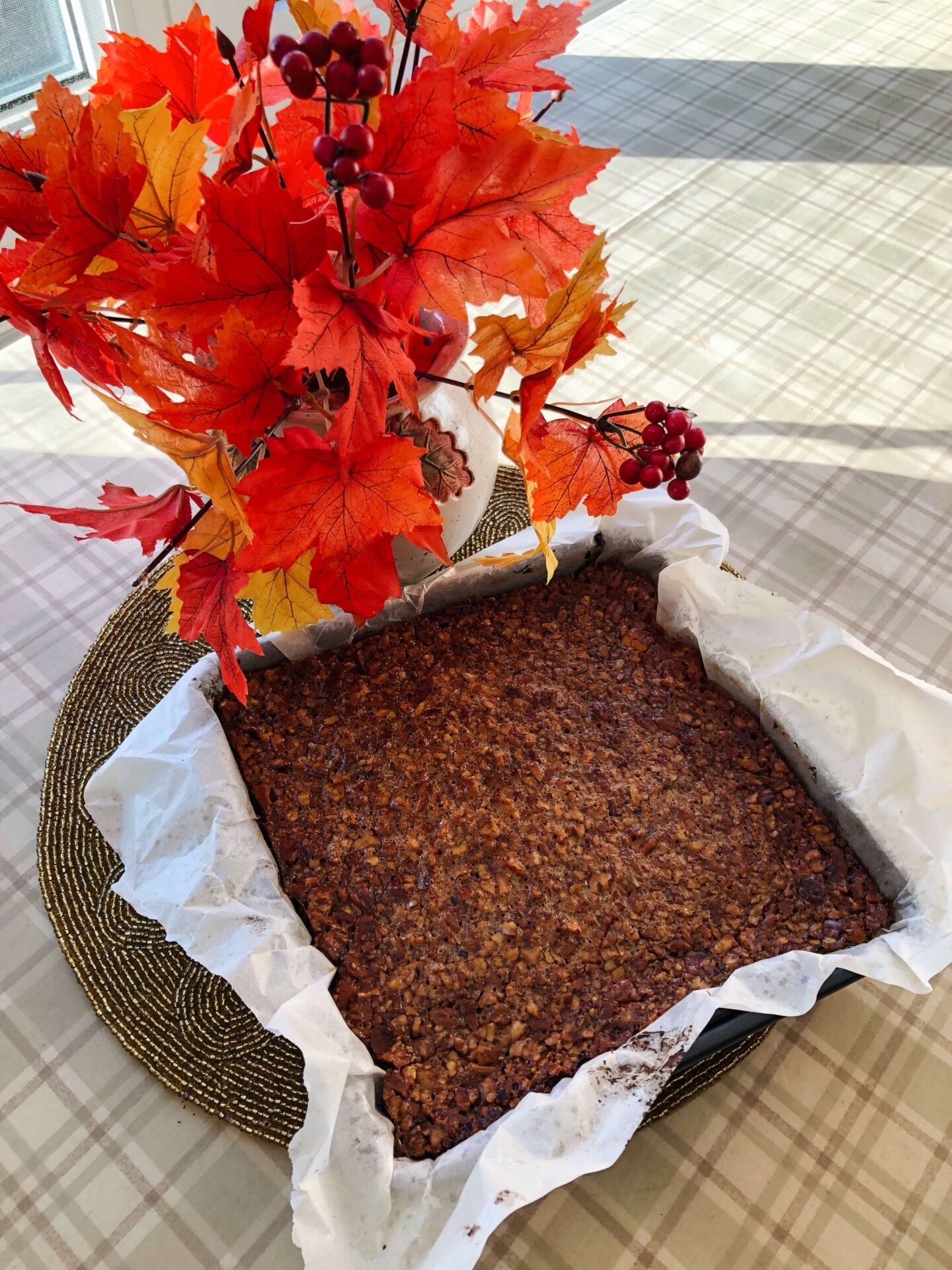 I had an extra chocolate brownie mix laying around and found this amazing fall-themed Pecan Pie Brownies Recipe on FoodDotCom's Instagram. The process was more complicated than their 1-minute video but they turned out to be my best brownies yet.
Equipment
9×9 baking dish
Medium saucepan
Parchment paper
Ingredients
1 Package of Chocolate Brownie Mix – I used Stonewall Kitchen Gluten Free Chocolate Brownie Mix which requires parchment paper, 2 large eggs, and 7 tablespoons unsalted butter
4 Tablespoons unsalted butter
3/4 Cups of brown sugar
1/2 Cup of dark corn syrup
1/2 Cup of Real Canadian maple syrup
3 Large eggs
2 Teaspoons of vanilla extract
1 1/2 Cups of large pieces of chopped pecans 
Pinch of kosher salt
Pecan Pie Brownies Recipe
Preheat oven to 350 degrees.
Spray a 9×9 inch square baking pan with nonstick spray, line with parchment paper leaving an overhang on the sides, then spray parchment paper.
Prepare chocolate brownie batter according to package instructions and bake.
In a medium saucepan, melt butter and brown sugar over medium heat until sugar dissolves.
Remove from heat and stir in corn syrup, real Canadian maple syrup, eggs, vanilla extract, pecans, and a pinch of salt.
Spoon pecans over brownies in an even layer, then bake until topping is just set, about 30-35 minutes.
Let cool to room temperature, then cut into squares to serve.
---
Do you like the combination of pecan pie and brownies?
Let me know.