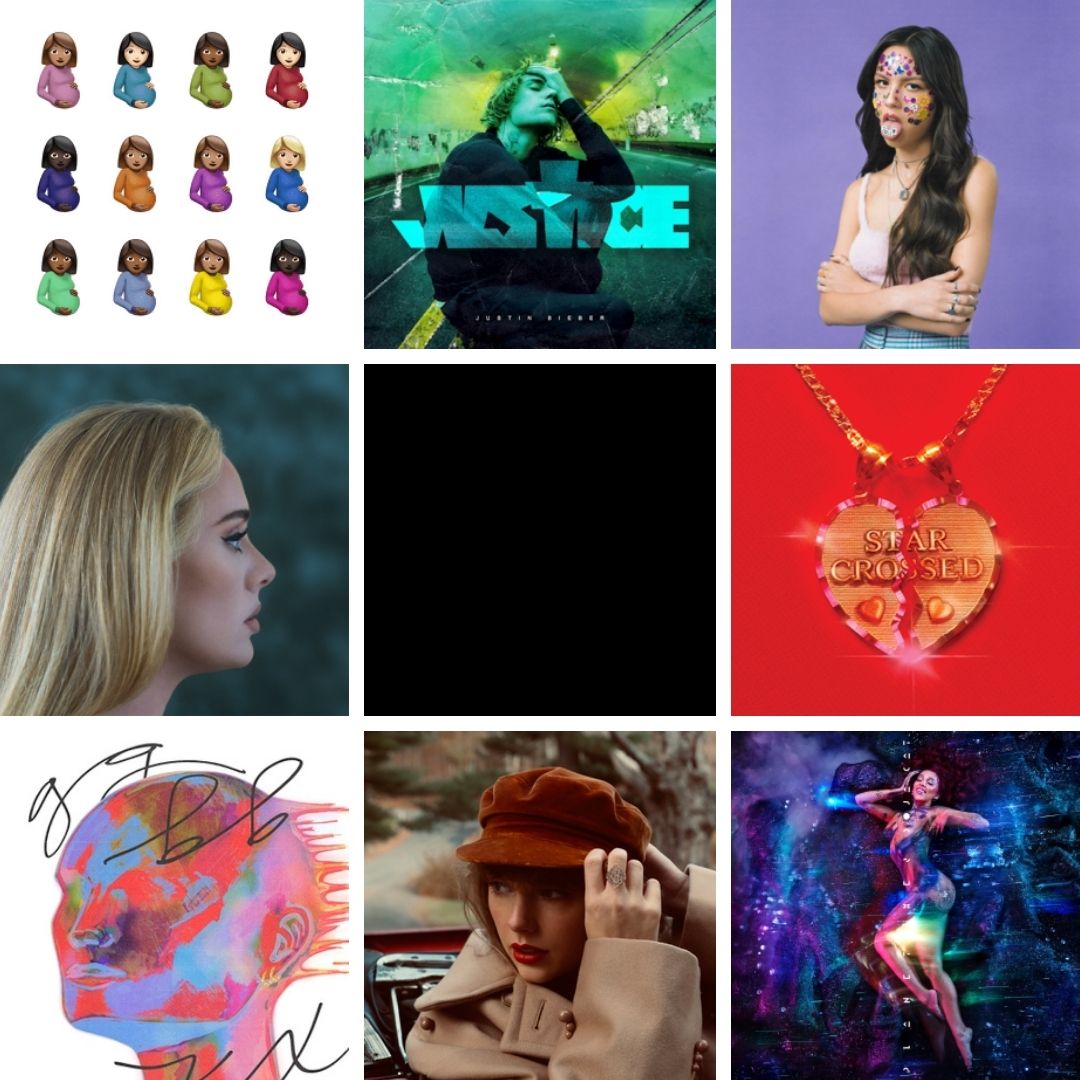 Unlike previous years, I had difficulty fitting music into my schedule. In 2021, I was completing a post-grad diploma and working – so, I needed a lot of silence to focus on tasks. However, I am still such a music enthusiast at heart and did try my hardest to keep up with new releases and music trends.
In 2021, I listened to over 20,338 minutes of music and had a playlist of 528 songs that I liked, listened to, and discovered from Spotify's New Music Friday, New Music Friday Canada, and Release Radar playlists every week.
My yearly playlist also includes songs I discovered on social media platforms and watching the Spotify Weekly Song Charts to listen to emerging song trends that I may have missed.
I felt that this year, I was much more selective with music and only kept songs on my yearly playlist that I loved and would want to listen to repeatedly. Due to current events and the continuing pandemic, I felt that I gravitated towards upbeat pop music to keep my mood afloat.
In this article, I'm going to share the artists I enjoyed a minimum of five songs from their discography this year with you. If I liked more than five songs, I'm going to explain to you why I liked their music in 2021.
My Top Artists of 2021
Drake – 14 Songs
As a life-long Drake fan, I must admit that Certified Lover Boy did not stick to me as his other albums have. Songs like 'Champagne Poetry,' 'Fair Trade Ft. Travis Scott,' 'Way 2 Sexy Ft. Future & Young Thug,' and 'Knife Talk Ft. 21 Savage & Project Pat' were probably my top-rated songs out of the 21-song album. In fact, the singles from the Scary Hours 2 EP release in March 2021 had more of a hold on me.
Like many people, I am still so heartbroken about Travis Scott's Astroworld Festival and the ten lives lost, not even including the hundreds of injured festival-goers. I feel like Drake's involvement in that tragedy changed my view of him.
My Favourite Song of 2021: 'What's Next' by Drake, Scary Hours 2
Justin Bieber – 12 Songs
I had another year where Justin Bieber's music caught my attention. As soon as he released 'Anyone' on January 1st, 2021 – I waited for his new album Justice in March and kept listening to subsequent deluxe versions he released later in the year. Songs like 'Peaches Ft. Daniel Caesar & Giveon', 'Ghost,' 'Lifetime,' 'Red Eye Ft. TroyBoi,' 'Hold On,' 'Off My Face' and 'Anyone' were on replay for me.
My Favourite Song of 2021: 'Ghost' by Justin Bieber, Justice
Olivia Rodrigo – 11 Songs
This Disney star indeed took the world by storm in 2021! Like many people, I discovered Olivia Rodrigo on TikTok and quickly fell in love with her pop-punk and emotionally raw music. It will be interesting to see what direction Olivia goes with her next release, but I did have her SOUR album on a loop last year.
My Favourite Song of 2021: 'drivers license' by Olivia Rodrigo, SOUR
Adele – 9 Songs
I became a fan of Adele when she released her song 'Hello' in 2015. I remember watching classmates in my university dance classes create compositions to her songs, and I would download them on iTunes. In fact, I only used iTunes during that time for Taylor Swift, Adele, and Beyonce.
In 2021, people, including myself, were patiently waiting for Adele's release of her album 30, and to be honest, it's probably my least played album of hers. Overall, the album is musically incredible, but I have a hard time repeatedly listening to six-minute emotional songs.
My Favourite Song of 2021: 'Easy on Me' by Adele, 30
Kanye West – 9 Songs
In 2016, I no longer identified as a Kanye West apologist, and with all the reoccurring controversies and outbursts he has ignited since then – I stand by my choice. It was a difficult decision to make as a fan because Kanye West was one of my favourite artists since I was thirteen years old.
When Donda was released, I was super hesitant to listen to it. But when I did – I found that I gravitated more to the features (i.e., Fivio Foreign, The Weeknd, Lil Baby, Baby Keem, etc.) and the production of the songs rather than Kanye West's rapping. I'm not sure if I would listen to another release of his, but when I get there, I'll let you know.
My Favourite Song of 2021: 'Hurricane' by Kanye West, Donda
Kacey Musgraves – 8 Songs
It's not surprising for me to reveal that Kacey Musgraves star-crossed was probably my most anticipated album release of the year. Kacey Musgraves' country songwriting is so relatable, and being given a whole album of haunting break-up songs is such a diversion from her previous album Golden Hour. The album star-crossed is not my favourite of hers, but I do love the songs 'breadwinner,' 'cherry blossom,' 'justified,' and 'camera roll.'
My Favourite Song of 2021: 'justified' by Kacey Musgraves, star-crossed
LANY – 7 Songs
Like I said, in 2020, LANY follows an alternative boy-band formula that sometimes flourishes or falls flat. I feel like this year, their music was much more energetic and captivating, and I liked it better than their slow ballads.
My Favourite Song of 2021: 'get away' by LANY, gg bb xx
Taylor Swift – 7 Songs
I'm proud of Taylor Swift's re-recordings of her previous albums, but I don't classify them as 2021 releases. The only songs I added to my yearly playlist were my favourite songs in the vault of her Fearless (Taylor's Version) and Red (Taylor's Version) albums. There's magic in this music, but I am so excited to see what she comes out with next that's not a re-recording.
My Favourite Song of 2021: 'The Very First Night' by Taylor Swift, Red (Taylor's Version)
Doja Cat – 6 Songs
Doja Cat's music and her power over social media were unavoidable in 2021. Like Kim Petras, I have hesitancy when listening to Doja Cat because of their affiliation to controversial music producer Dr. Luke; no matter what pseudonym he's under. However, you cannot deny Doja Cat's talent and individuality in her music. 
My Favourite Song of 2021: 'Kiss Me More Ft. SZA' by Doja Cat, Planet Her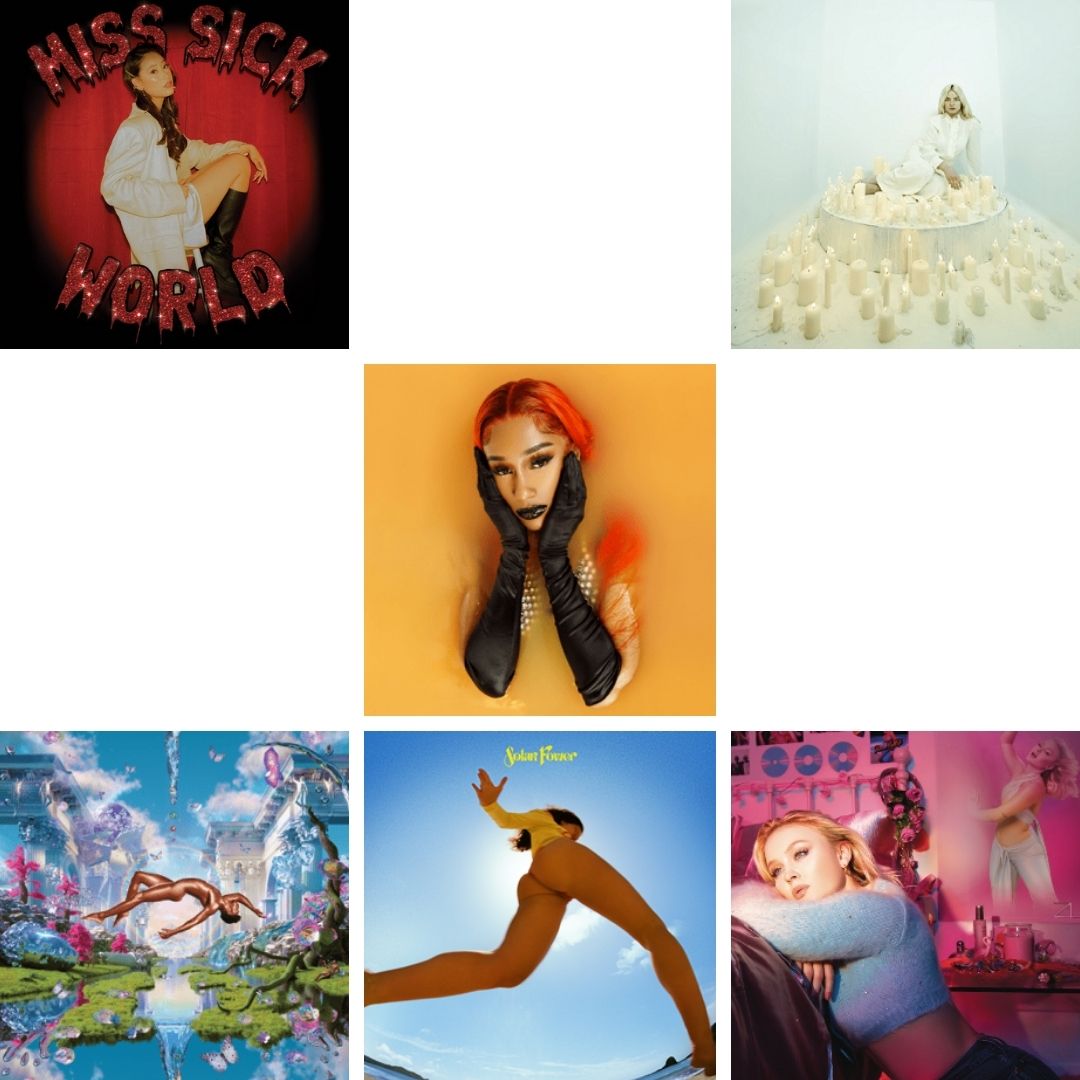 Alex Porat – 5 Songs
My Favourite Song of 2021: 'bubblegum by Alex Porat', MISS SICK WORLD
Ashe – 5 Songs
My Favourite Song of 2021: 'Till Forever Falls Apart Ft. FINNEAS' by Ashe, Ashlyn
BIA – 5 Songs
My Favourite Song of 2021: 'WHOLE LOTTA MONEY Ft. Nicki Minaj [Remix]' by BIA, FOR CERTAIN (Deluxe)
Lil Nas X – 5 Songs
Favourite Song of 2021: 'MONTERO (Call Me By Your Name)' by Lil Nas X, MONTERO 
Lorde – 5 Songs
My Favourite Song of 2021: 'Solar Power' by Lorde, Solar Power
Zara Larsson – 5 Songs
My Favourite Song of 2021: 'I Need Love' by Zara Larsson, Poster Girl
---
Who were your favourite artists of 2021?
Let me know.