As a passionate Apple enthusiast, after having an iPhone 8 Plus for four years, I reluctantly tossed my desire to keep a 'home' button for an iPhone 12 Pro Max. I've had an attachment to mobile phones since getting my first Blackberry in 2010. Now that I work in digital media, I use my mobile phone for personal, professional, and creative reasons daily.
In addition, the pandemic made the daily routine I have with my mobile phone change dramatically. My iPhone is now fully integrated with several activities that I wouldn't have used it for before. With the help of a pink phone stand from Amazon, I even use my mobile phone as a second monitor.
My Mobile Day-In-The-Life
Morning
Before starting my day, I complete a virtual workout class hosted by my gym on the Safari mobile browser.
When my workout finishes, I open the Spotify app and get ready with a playlist or podcast playing in the background.
I then respond to any email, LinkedIn, WhatsApp, Instagram, and Text message that I haven't replied to yet.
Afternoon
Throughout my post-grad, I've been watching lectures on Blackboard and Microsoft Teams via mobile. I like having my laptop and mobile screen running simultaneously during school because it lets my laptop run more efficiently with fewer applications.
After class, if I need a pick-me-up, I walk to my closest Starbucks for a coffee. Starbucks has the best-optimized rewards app, and I like having the option of mobile ordering and picking it up curb-side safely.
I also scroll, double-tap, and take photographs for my 'Stories' on Instagram during the day.
Evening
After work and school assignments, I then spend an hour reading. I adore using my local library's affiliated Overdrive Libby app to read ebooks and listen to audiobooks. I use apps like Audible, Kindle, and Apple Books too.
I'm a reality television enthusiast, and I use the app Hayu to watch my favourite Bravo shows. These tv shows sometimes lead me to read commentary on Reddit or watch YouTube videos.
Lastly, I downloaded TikTok a month before the pandemic, and I don't want to admit how much time I spend scrolling on that app before bed.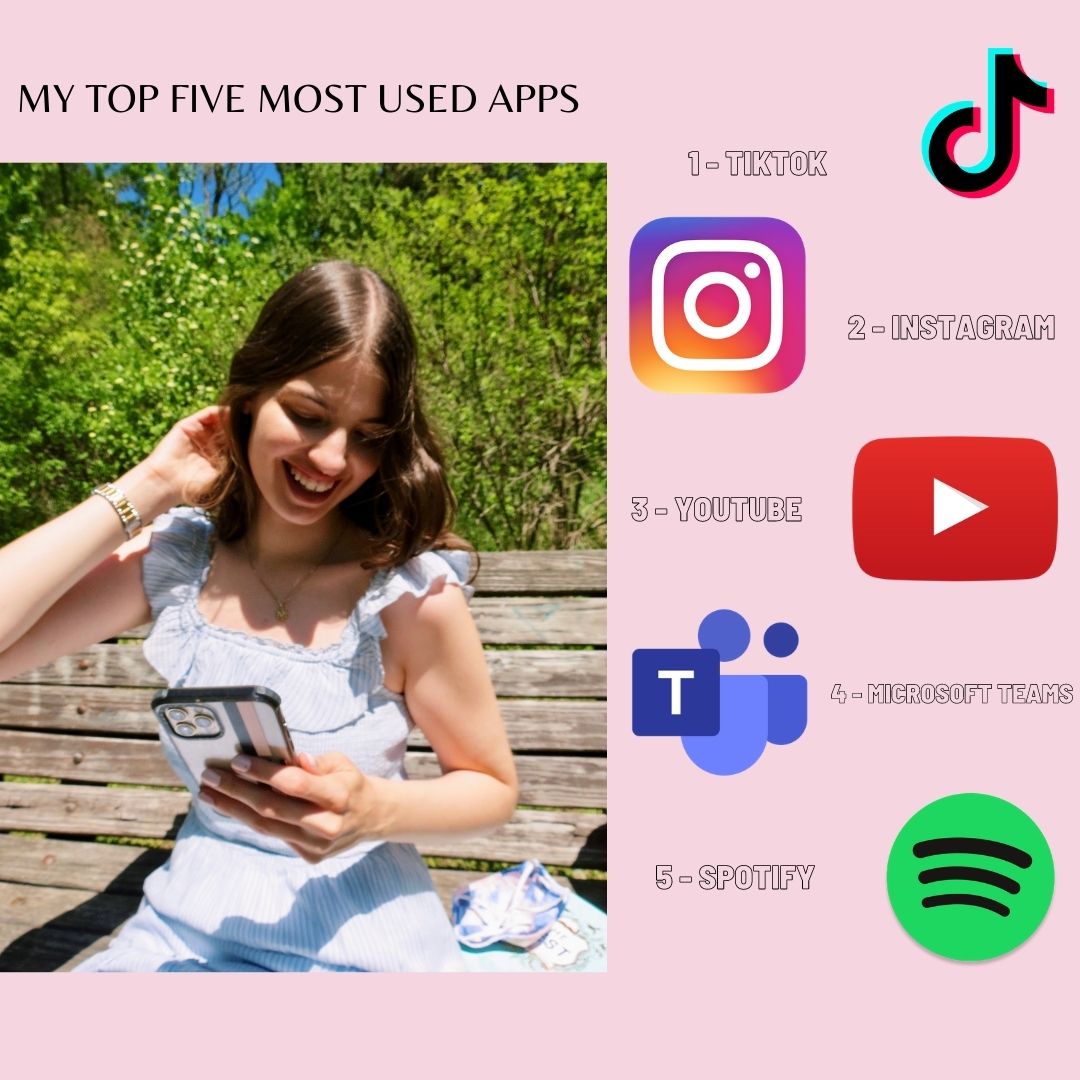 My Top Five Most-Used Apps and Micro-Moments
Based on my mobile day-in-the-life, my top five most-used apps are TikTok, Instagram, YouTube, Microsoft Teams, and Spotify. Outside of Microsoft Teams, which I use for school lectures – I understand the value these entertainment apps deliver. When I take breaks throughout the day or need to complete tasks, I resort to YouTube or Spotify, playing it close by or in the background.
When reflecting on my usage of my top five most-used apps, I would like to get a little 'nerdy' about it and introduce the concept of Google Micro-Moments. As stated in this Think with Google article, The Basics of Micro-Moments, they define a micro-moment to be "an intent-rich moment when a person turns to a device to act an a need – to know, go, do, buy" (Google, 2016.) Let's apply it to these five apps and get even more digitally savvy!
1 – TikTok
My most-used app to watch short viral videos from new aspiring content creators.
My TikTok Micro-Moments:
I want to be… entertained by funny animal videos and comedians.
I want know… the latest fashion and makeup trends from influencers.
2 – Instagram
My most-used social networking app to connect and share photos and videos with friends.
My Instagram Micro-Moments:
I want to know… what my friends, family, and favourite influencers are doing.
I want to go… to popular downtown Toronto cafes, restaurants, and events.
I want to buy… preppy fashion pieces from unique boutiques.
3 – YouTube
My most-used video app to watch commentary and influencer videos.
My YouTube Micro-Moments:
I want to buy… a certain lipstick and watch a beauty guru's video review of it first.
I want to be… entertained by my favourite content creators and influencers.
4 – Microsoft Teams
My most-used video conferencing app on my mobile phone.
My Microsoft Teams Micro-Moments:
I want to know… about my post-grad subjects and be present in lectures.
I want to communicate… with my peers and professors.
5 – Spotify
My most-used music streaming app where I listen to playlists and podcasts.
My Spotify Micro-Moments:
I want to discover… new artists and songs.
I want to know… and listen about certain hot topics in podcasts.
Mobile Friction
Out of these five apps, I feel like TikTok is where I experience the most mobile friction. Due to the app still being new and, on the scene, the 'For You' page is so captivating, it's hard to distract yourself from using its other features.
You truly can't open TikTok with a specific micro-moment in mind because your 'For You' page is a continuous scroll of randomized videos suited to your algorithm. It's the reason why the app is so addictive; there is no end goal in the customer journey other than not leaving the app. Each video could be a different micro-moment.
Also, when I find a TikTok video I enjoy, I make sure to 'like' it right away because the likeliness of finding that particular video again is slim. Due to TikTok restarting your 'For You' page once you close and open the app.
For example, if I open TikTok with the micro-moment – "I want to buy… cute clothes" and my 'For You" page is full of animal videos and not one about fashion. I'm going to feel a pain point in my customer journey and unsatisfied with the app. Moreover, closing it to go to Instagram.
Marketer's Perspective
While writing this blog post, I can extract from this information that I use my mobile device more for entertainment purposes than communication. I find it insightful that I'd rather scroll through videos than respond to my friends' text messages at a timely hour.
From a marketers' perspective, it's so apparent why developers create apps with the main mission of not wanting their users to leave. This is why Instagram, over time, has become a hub for content sharing, messaging, and now shopping. They want users to fulfill a majority of their micro-moments in one place.
My insights are valuable and can be improved upon because I now can identify that I'm a user that primarily uses my mobile phone for entertainment. I can recognize that I'm more likely to purchase products in my customer journey if I saw a viral video of it on Tiktok or an influencer's review of it on YouTube through my mobile phone.
---
I hope you can appreciate this in-depth perspective on a mobile day-in-my life and take away something from my behaviours. This blog article is written for my George Brown College Post-Graduate Digital Media Marketing Diploma in MARK4024 OMNI Channel Marketing.
What does your mobile day look like?
Let me know.
References: Google. (2016). Think With Google The Basics of Micro-Moments. Retrieved from https://www.thinkwithgoogle.com/consumer-insights/consumer-journey/micro-moments-understand-new-consumer-behavior/