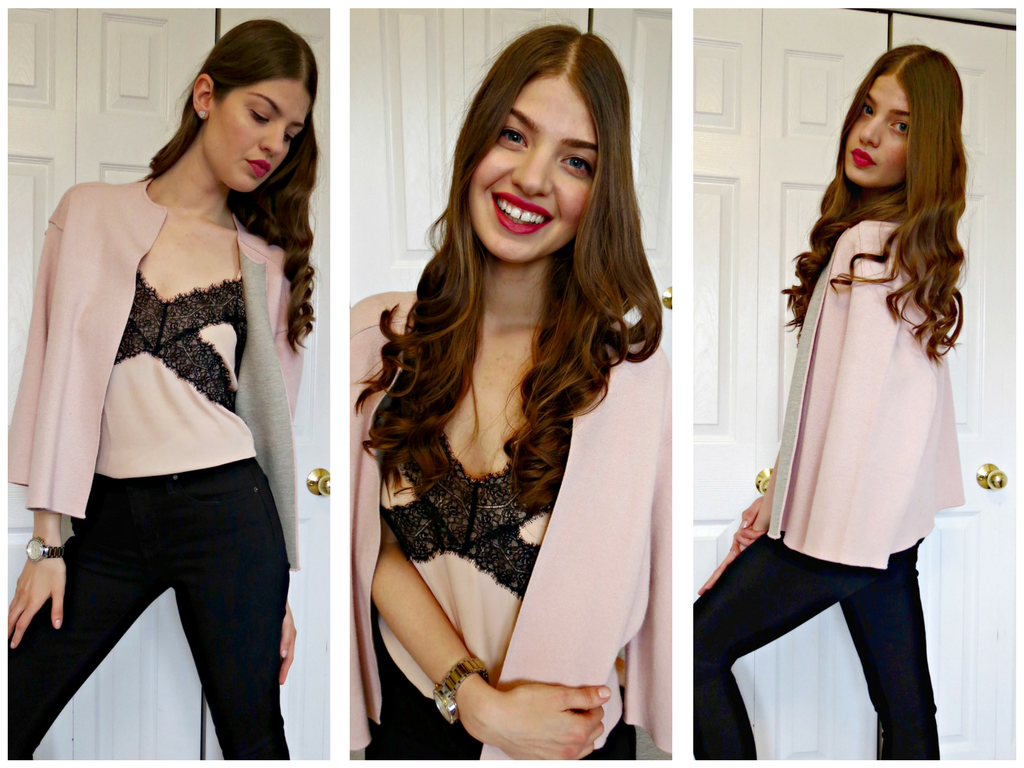 Two weeks ago, I was invited to experience high tea at a luxurious hotel downtown with my friends. The evening was unforgettable and filled with beautiful loose leaf tea, flakey pastries, and lovely company. While outfit planning for the event I asked myself "What would Marie Antoinette wear in 2017?" I wanted my outfit to be classy and elegant, yet finely balanced between smart and casual. After a lot of thought and trying on, I came up with this pale pink and black Parisian theme. Also, if you are going to be outside for more than a few minutes take a warmer jacket because it isn't a particularly warm outfit.
The Outfit
Sweater – Zara Parisian Styled Cardigan in Pale Pink: This cardigan was my first-ever purchase from Zara. I love the pale pink colour, the Parisian style, and the way it drapes over my shoulders.
Top – Forever 21 Lingerie Top in Pale Pink and Black: I purchased this top from Forever 21 two years ago before the lingerie-outerwear trend became popular. In fact, when I wore it two years ago my friends thought the top was kind of daring. My favourite part about it is the black lace that really pulls the whole outfit together.
Pants – Levi's 721 High Rise Skinny Jeans in Black Sheep: Since 2010, the only place I've ever shopped for jeans was at American Eagle Outfitters. However, a couple of months ago I needed new jeans and wanted to try Levi's because they never go out of style. I'm glad I tried something new because I now own three pairs of Levi's that I'm crazy about!
Earrings – Tiffany & Co. Return to Tiffany's Silver Studs
Watch – Michael Kors Ladies Parker Two-Tone Glitz Watch
Shoes – Aldo Ankle Booties in Black
Handbag – Forever 21 Quilted Crossbody in Black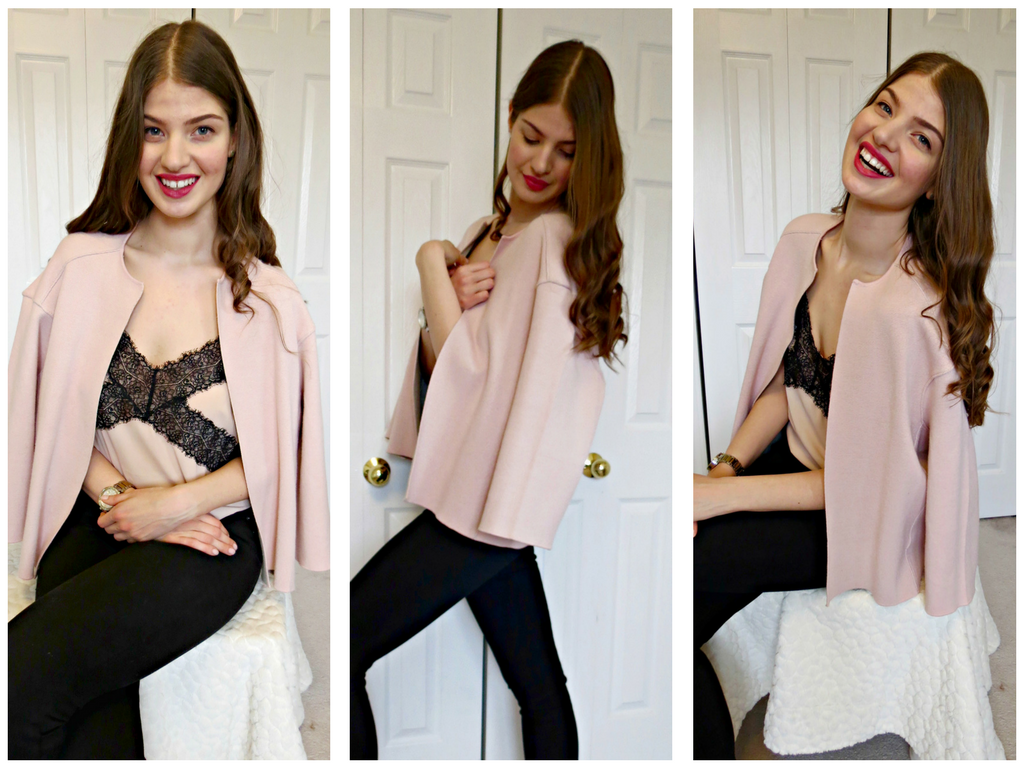 The Makeup Look
Primer – Smashbox Photo Finish Foundation Primer
Foundation – Too Faced Born This Way Foundation in Porcelain
Concealer – Maybelline Instant Age Rewind Eraser Dark Circles Treatment + Concealer in Fair
Contour – Stila Shape & Shade Custom Contour Duo in Light
Under Eye Powder – Laura Mercier Loose Setting Powder in Translucent
Powder – M.A.C. Mineralize Skinfinish Natural in Light Plus
Highlight – BECCA Shimmering Skin Perfector in Moonstone
Blush – Tarte Tarteist Blush Palette in the Mauve Matte Shade
Eyeshadow Primer – Too Faced Shadow Insurance
Eyeshadow – Urban Decay Naked 2 Palette: I applied in the inner corners Bootycall, on the crease Half Baked, on the outer crease Chopper, and on the outer lid Foxy.
Eyeliner – Kat Von D Tattoo Liner in Trooper
Mascara – Covergirl LashBlast Volume in Very Black
Eyebrow Pencil – L'Oreal Paris Brow Stylist Definer in Brunette
Eyebrow Gel – NYX Tinted Brow Mascara in Brunette
Lipstick – Marc Jacobs Le Marc Lip Creme in Kiss Kiss Bang: Instead of wearing my everyday nude lipstick, I went with a rosy pink shade from Marc Jacobs. If you are wanting to invest in a luxury lipstick I totally recommend Marc Jacobs lipsticks because of their pigmentation, packaging, and colour selection.
Setting Spray – Make Up For Ever Mist & Fix: While driving to my friend's house I realized that I forgot to use a setting spray! Thankfully my best friend let me steal a couple of spritz from her Makeup Forever one and it helped my makeup last throughout the night.
---
What would you wear to high tea?
Let me know in the comments!