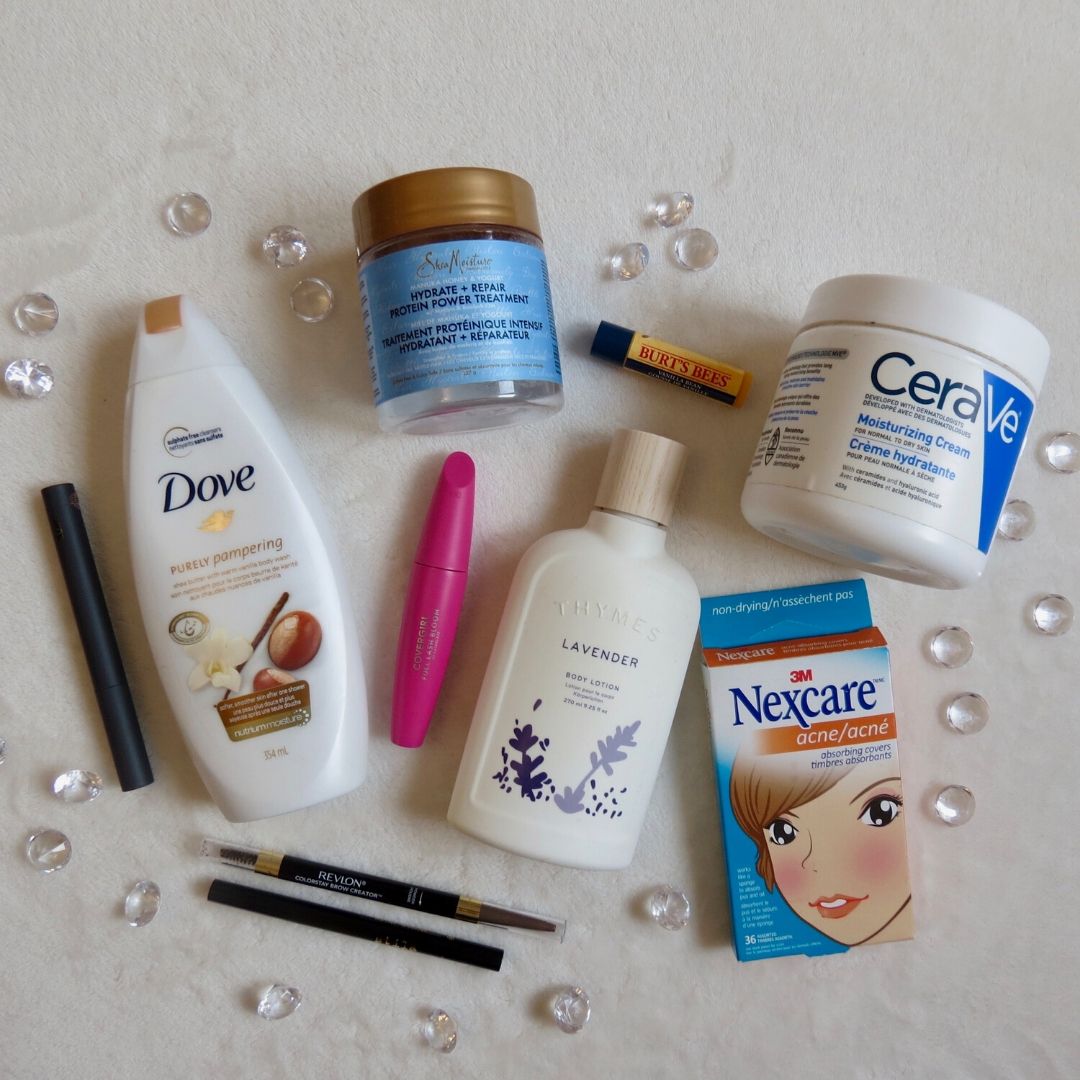 Pumpkin season ended so soon and here we are stepping into the snow. That means it's time for hand creams, hair masks, and a touch of red lipstick.
I started a Beauty Swap series on my Instagram Stories to show which products I'm replacing and why. There you can see new products I'm using and then wait for a detailed review of empties in these posts.
Anyway, here are the products I finished in September and October 2019.
Related: Products I Finished – July & August 2019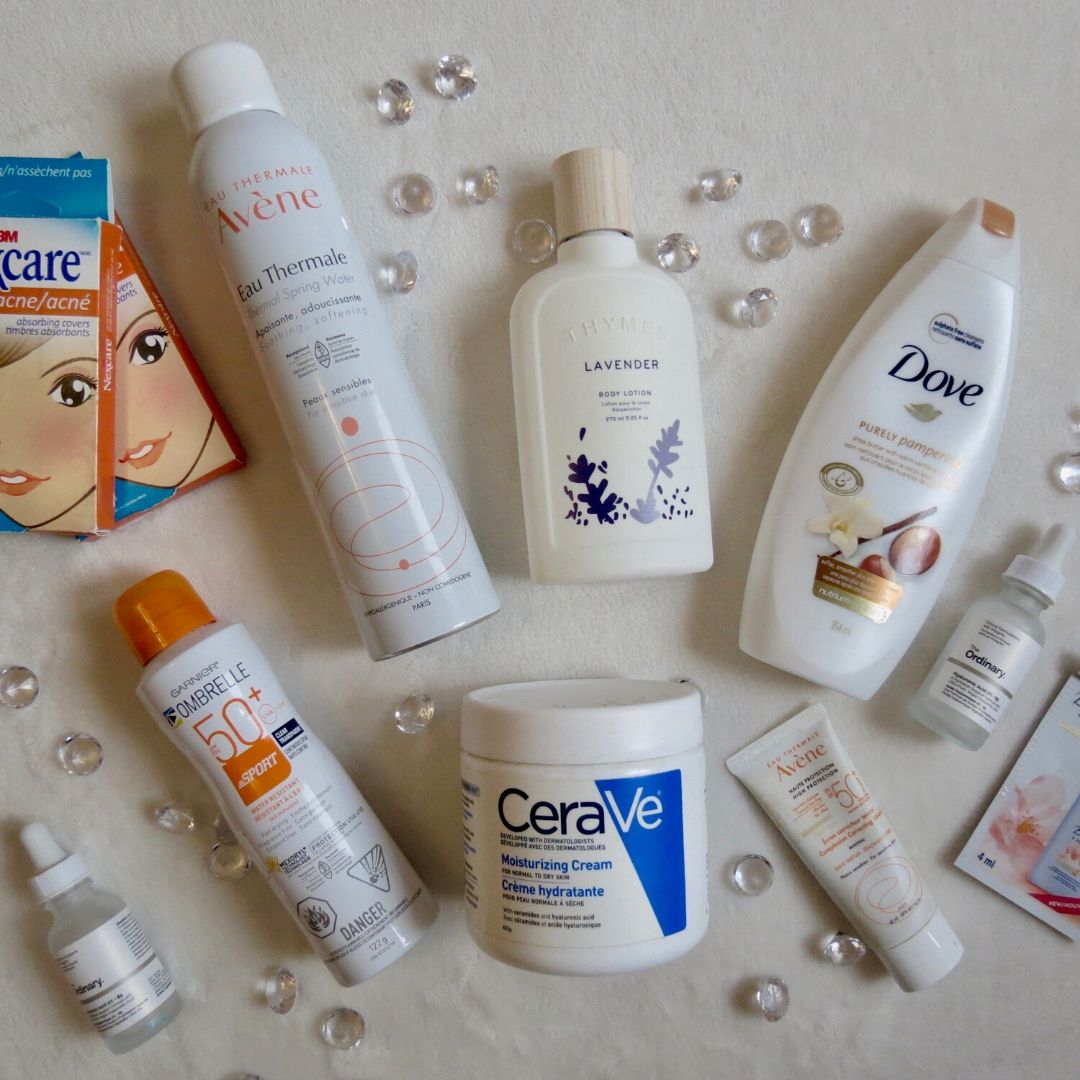 Skincare
Avene Thermal Spring Water Spray (Product Review)
My favourite face mist.
Re-Purchase? YES. (c$21.95 – 300ml Value-Size)
Avene Complexion Correcting Shield – Light
After trial and error, I still haven't found a facial sunscreen that is moisturizing for my dry skin. On paper, this sunscreen is incredible. That's because it's a mineral sunscreen, fragrance-free, and tinted so it applies with no white cast. The tint though doesn't match my skin tone and that will be the reason why I won't re-purchasing it.
Re-Purchase? NO. (c$35 – 40ml)
CeraVe Moisturizing Cream (First Review)
My favourite emollient-rich moisturizer.
Re-Purchase? YES. (c$19.97 – 453g)
Dove Purely Pampering Shea Butter With Warm Vanilla Body Wash
Dove body washes are affordable, moisturizing, and SLS-free. I like vanilla scent in this one but it wasn't long lasting. Which is why I'm going to try other scented versions.
Re-Purchase? MAYBE. (c$8.29 – 354ml)
Garnier Ombrelle Sport Continuous Spray SPF 50+
This is a great spray sunscreen that lasts and is easy to apply. It's not the season to buy sunscreen though and I do want to try others first.
Re-Purchase? MAYBE. (c$15.97 – 122g)
The Ordinary Hyaluronic Acid 2% + B5 (First Review)
My favourite hyaluronic acid serum.
Re-Purchase? YES. (c$6.80 – 30ml Standard-Size)
I loved the feeling and consistency of this body lotion. I'm not fond of the lavender scent and I will not be re-purchasing it. I want to try vanilla scented body creams now.
Re-Purchase? NO. (c$25 – 270ml)
3M Nexcare Acne Absorbing Covers
Acne is normal. You may get a blemish and want to treat it without drying or harsh spot treatments. This is where these amazing acne absorbing covers come to play. The covers absorb oil and bacteria surrounding the blemish. It also brings down inflammation without drying ingredients.
Re-Purchase? MAYBE. (c$10.97 – 36 Assorted Covers)
Makeup
Burt's Bees 100% Natural Moisturizing Lip Balm – Vanilla Bean
I find with Burt's Bees lip balms you either love the flavour or you immediately dislike it. The vanilla bean is neutral one for me and it's great if you want a light flavour that isn't overpowering.
Re-Purchase? MAYBE. (c$4.98 – 4.25g)
Covergirl Full Lash Bloom by Lashblast Mascara – Very Black
If you're looking for a barebones or inexpensive mascara, I recommend Covergirl ones. The Full Lash Bloom didn't work for me and it's making me question my loyalty towards their mascaras. This one smudged under my eyes and that's my number one reason to stop using a mascara.
Re-Purchase? NO. (c$8.97 – 13.1ml)
Real Techniques Miracle Complexion Sponge (First Review)
My favourite makeup sponge. I don't recommend keeping it in it's case though when it could be wet because it could start discolouring, etc.
Re-Purchase? YES. (c$8.99 – 1 Sponge)
Revlon Colorstay Brow Creator – 635 Medium Brown
I regret replacing my favourite L'Oreal Paris eyebrow pencil with this Revlon one just because it was on sale. The Revlon pencil snapped every time I used it and the powder was more of a cool feature than functional.
Re-Purchase? NO. (c$12.97 – 0.09g)
Stila Stay All Day Waterproof Liquid Eyeliner – Intense Black Jet Black
I first bought this liquid eyeliner to replace my Kat Von D one and then my eye issues began. This eyeliner had been open for a while I decided to replace it with a drugstore alternative. I also wasn't fond of the Stila's felt tip because it wasn't flexible.
Re-Purchase? NO. (c$29 – 0.5ml)
Samples
Bite Beauty Matte Crème Lip Crayon – Red Velvet (First Review)
I like these Bite Beauty Matte Crème Lip Crayon and how pigmented they are. This shade is now expired and I will not purchase it because I prefer liquid lipsticks in red shades.
Purchase? NO. (c$29 – 1.56g)
Nivea Cherry Blossom & Jojoba Oil Infused Lotion
When I first opened this sample, I was hoping for it to smell like the L'Occitane cherry blossom lotion. Instead of the L'Occitane candied scent, the Nivea is more natural and floral.
Purchase? NO. (c$8.97 – 100ml Full-Size)
Nails
Miniso Japan Watermelon Nail Polish Cleansing Wipes (First Review)
These nail polish cleansing wipes work so well and take off the toughest nail polish. This is the second set in a pack of two.
Re-Purchase? NO. (c$? – 48 Pieces)
Haircare
Nizoral Anti-Dandruff Shampoo (First Review)
My favourite anti-dandruff hair treatment.
Re-Purchase? YES. (c$16.29 – 120ml Value-Size)
Shea Moisture Manuka Honey & Yogurt Hydrate + Repair Protein Power Treatment
This is the first product I bought from Shea Moisture. My curly haired friend influenced me to try the brand because they liked another one of their masks. The first thing that drew me to the mask was that it's sulfate free and colour safe. I also liked its sweet scent and how it promised to fortify weak hair strands. Being someone with bleached highlights, keeping my hair healthy as possible is important. I will not be re-purchasing this mask yet because I want to try other brands next.
Re-Purchase? MAYBE. (c$13.96 – 227g)
---
What beauty products have you finished?
Let me know!