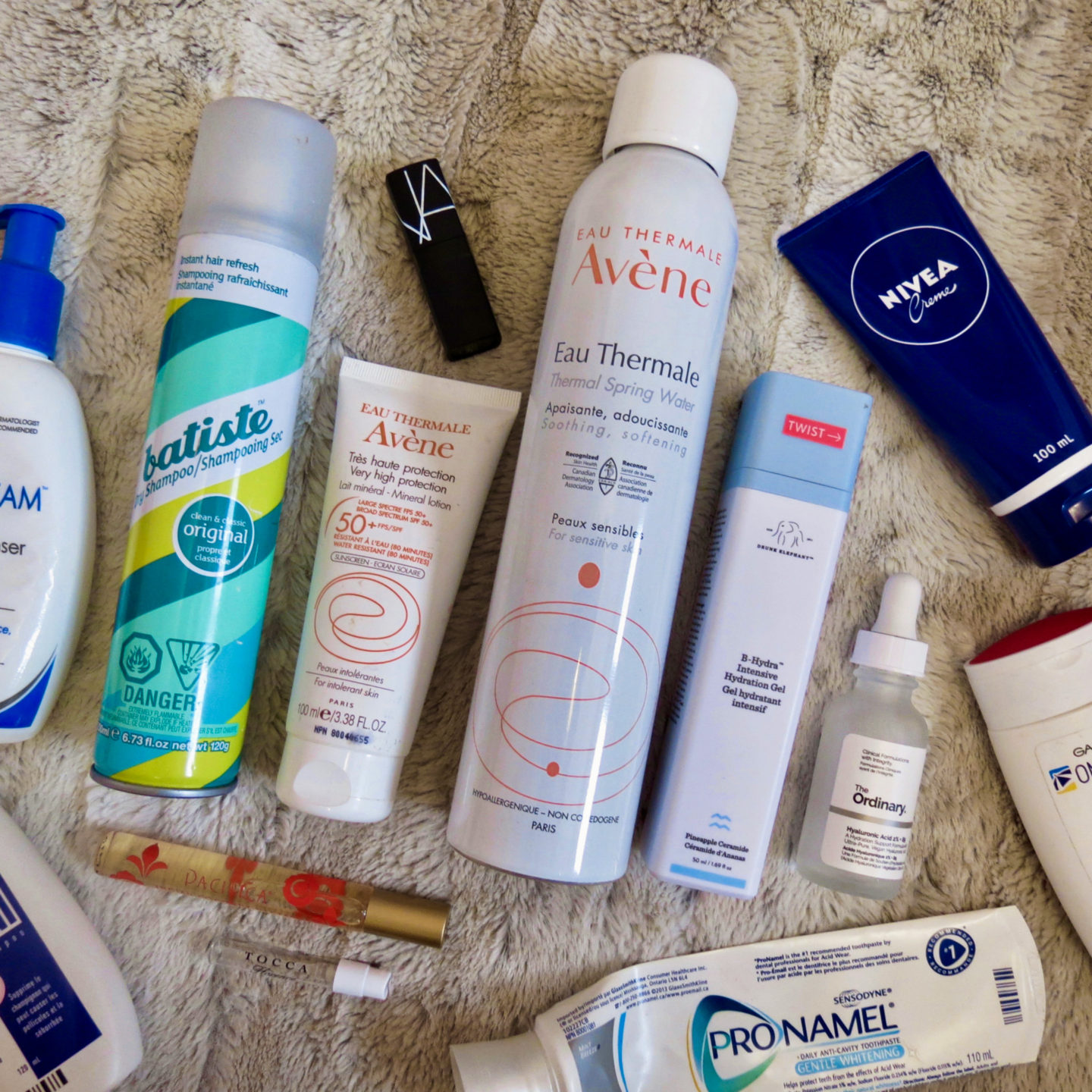 October went by so fast, I haven't even finished my pumpkin scented lotions and lip balms yet. I did, however, finish up a bunch of skincare products and a lipstick I've had for over three years. Please enjoy these mini-reviews before November quickly ends!
Related: Products I Finished – September 2018
Products I Finished – October 2018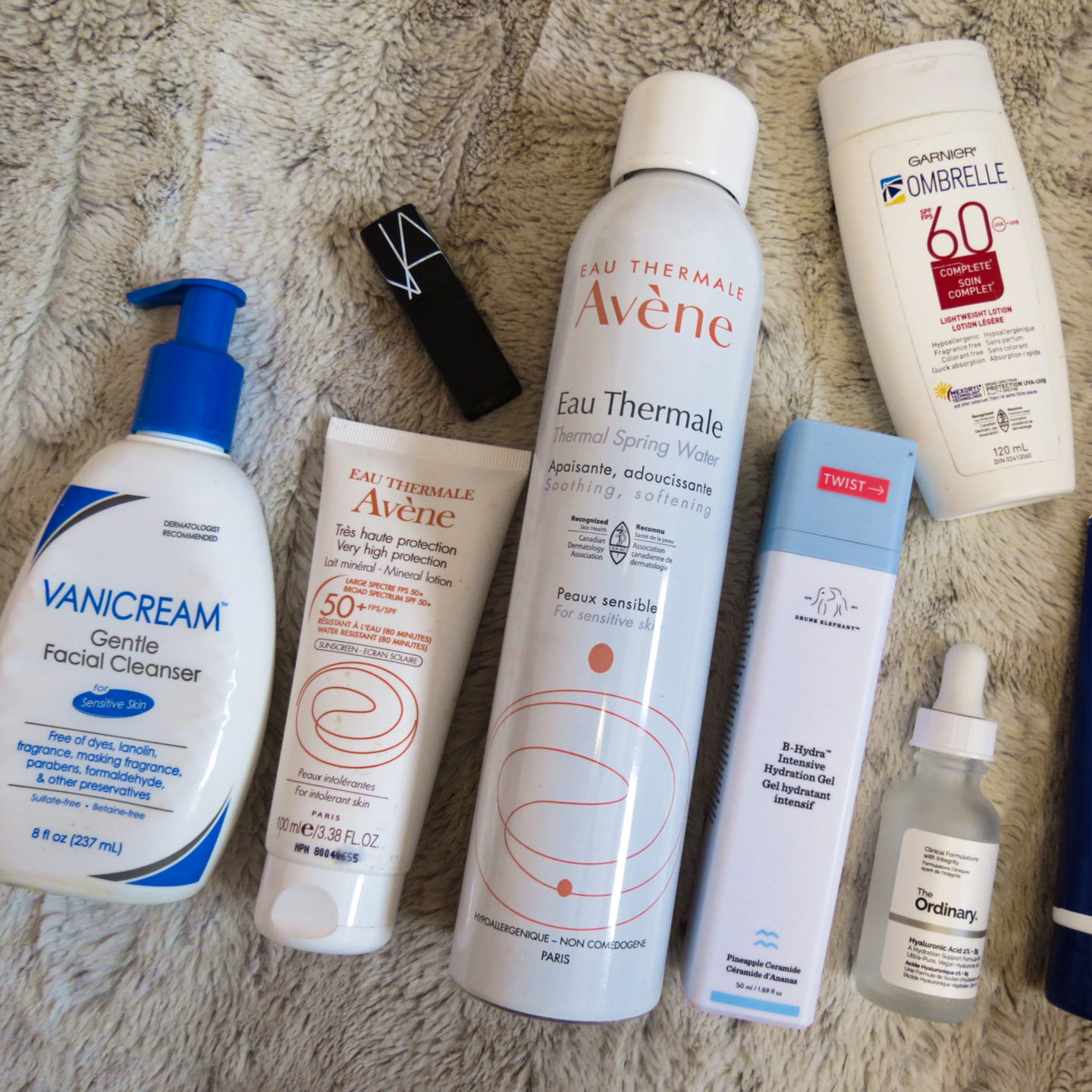 Skincare
Avene Thermal Spring Water Spray (First Review)
My favourite thermal water spray to spritz after cleansing.
Re-Purchase? YES. (c$21.95 – 300ml)
Avene 50SPF Very High Protection Mineral Lotion
A thick mineral sunscreen that leaves a heavy white cast and absorbs too slowly on the skin.
Re-Purchase? NO. (c$31 – 100ml)
Garnier Ombrelle 60SPF Complete Lightweight Lotion
A standard chemical sunscreen with no fragrance that is lightweight and fast absorbing. I have a spray sunscreen in my skincare collection to finish next before re-purchasing this one.
Re-Purchase? MAYBE. (c$23.99 – 240ml)
There is a conspiracy theory that the Nivea Creme is a duplicate to the beloved La Mer Creme De La Mer. Which now, I know I'll be hesitant to try because the heavy fragranced Nivea Creme was impossible to absorb into the skin due to its heaviness.
Re-Purchase? NO. (c$5.37 – 100ml)
The Ordinary 2% Hyaluronic Acid + B5 (First Review)
My favourite inexpensive hyaluronic acid serum.
Re-Purchase? YES. (c$6.80 – 30ml)
Vanicream Gentle Facial Cleanser
After browsing a post from the skincare blogger – SimpleSkincareScience, I was sold on this American facial cleanser he recommended. I paid above the market value for it on Amazon, since it's not available in Canada and when I finally got to use it, I didn't like it and it felt drying on my skin. I learned my lesson.
Re-Purchase? NO. (c$19.29 – 237ml)
Makeup
NARS Dolce Vita Satin Lipstick
If you are ever faced with the temptation to buy another lipstick, try finishing one in your collection first and seeing how long it takes you. I bought this NARS everyday neutral lipstick in 2016 and it took me till last week to finish it. Never again will I purchase lipstick so freely.
Re-Purchase? NO. (c$35 – 3.4g)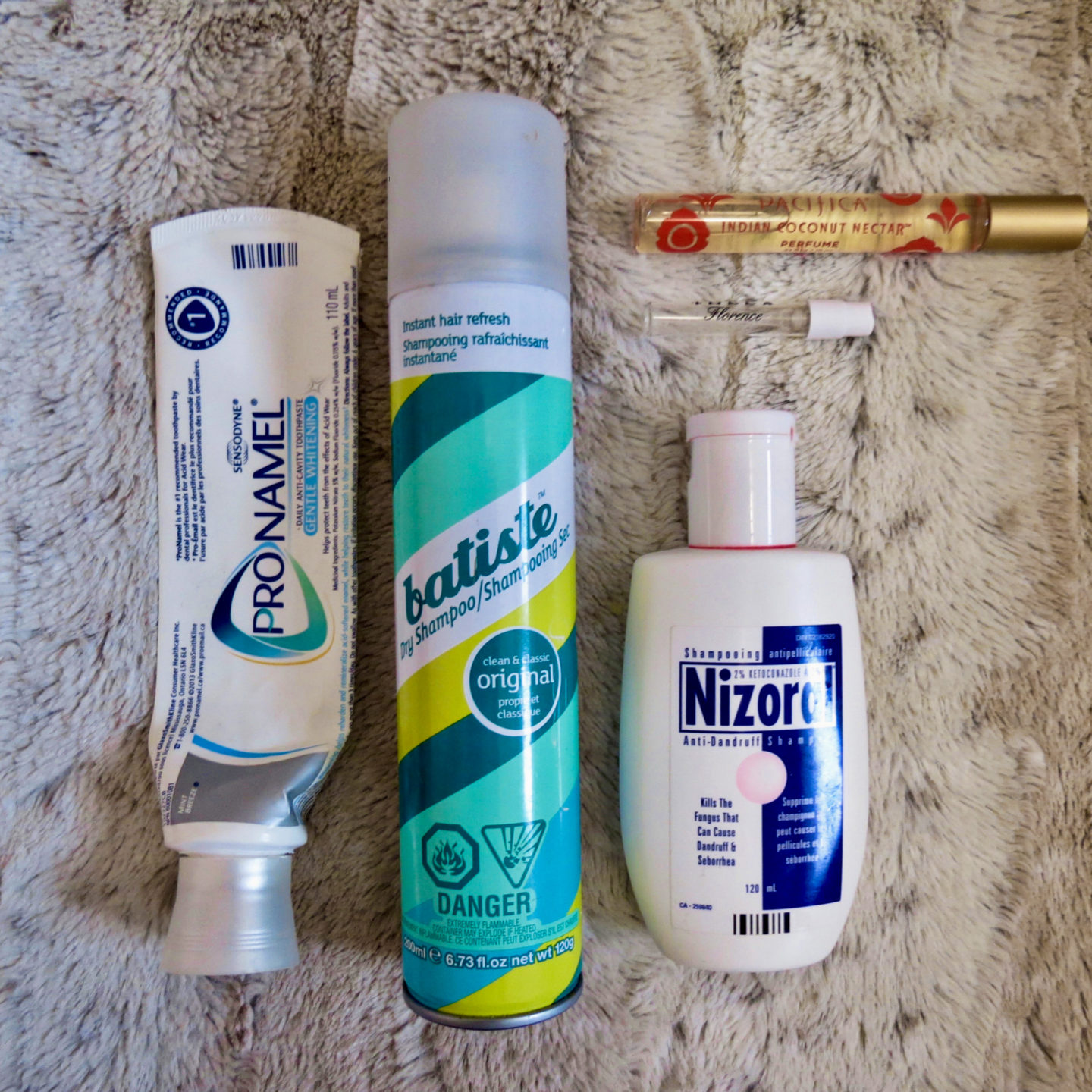 Samples
This is a classic floral fragrance with notes of gardenia, iris, and one I've never heard of called tuberose. I am still on the search for a perfume, however, this one does smell very French.
Purchase? NO. (c$94 – 50ml Full Size)
Other
Batiste Clean & Classic Original Dry Shampoo
I've had this dry shampoo for two years and every time I go to use it I dislike it. I prefer invisible dry shampoo rather than ones like this one where you have to rub in the product till it doesn't show.
Re-Purchase? NO. (c$8.76 – 200ml)
Nizoral Anti-Dandruff Shampoo (First Review)
In a past haircare routine post, I mentioned that I use Nizoral to help with my scalp psoriasis. After finishing this treatment I decided on purchasing a traditional dandruff shampoo instead of purchasing two separate products. As of right now, it has been successful.
Re-Purchase? MAYBE. (c$15.97 – 120ml)
Pacifica Indian Coconut Nectar Perfume Rollerball
I love coconut, however, I underestimated how sweet it would be to wear a pure coconut perfume. Unfortunately, this perfume did go bad partially because the rollerball isn't well designed and the perfume didn't come out.
Re-Purchase? NO. (c$14.45 – 10ml)
Sensodyne Pronamel Gentle Whitening Toothpaste (First Review)
My favourite SLS-free toothpaste.
Re-Purchase? YES. (c$11.64 – 110ml Value Size)
Systane Lid Wipes Eyelid Cleansing Wipes (First Review)
My favourite eyelid cleansing wipes.
Re-Purchase? YES. (c$9.97 – 32 Wipes)
Thank you for reading this post and continuing with this series.
---
What beauty products have you finished?
Let me know!