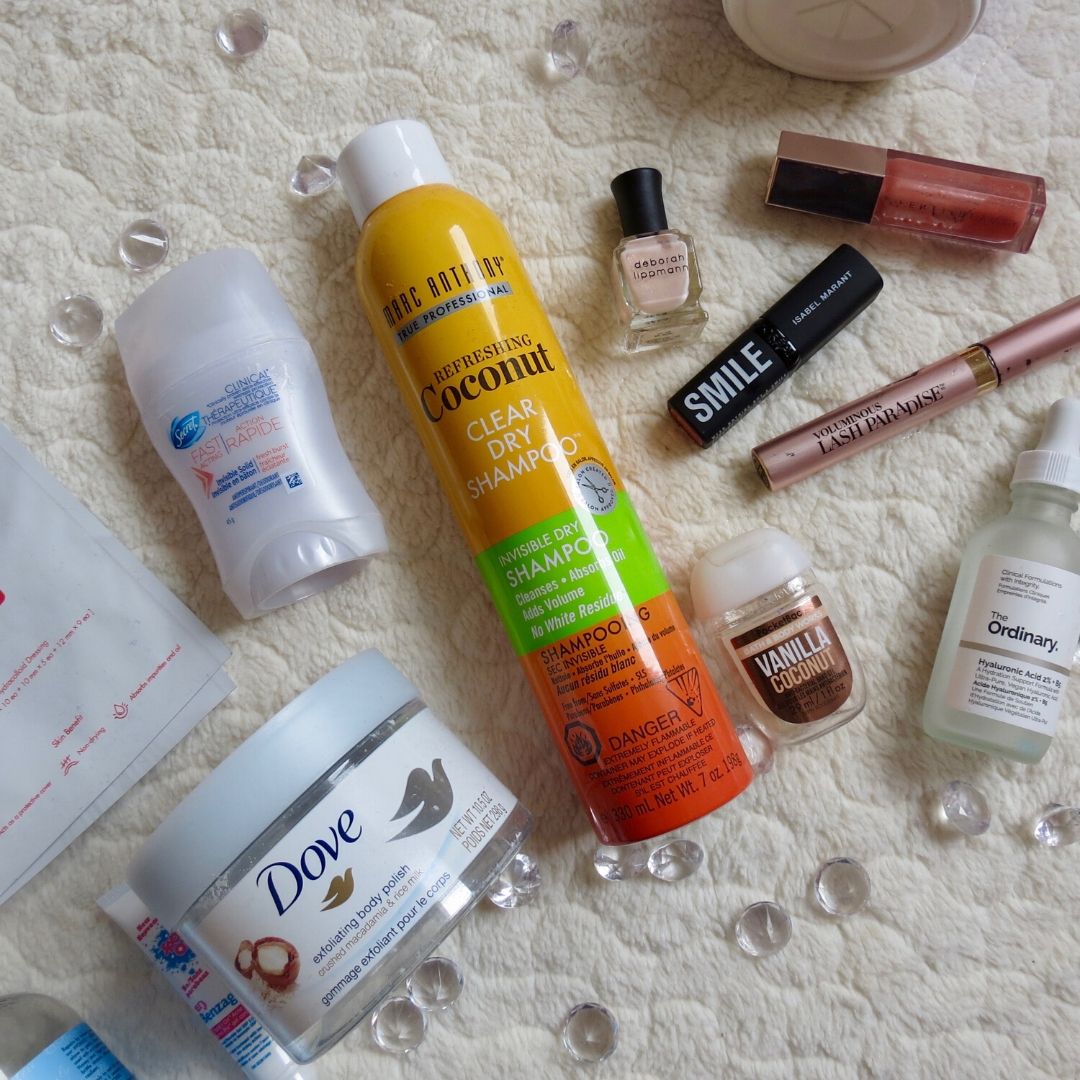 2019 has come to an end and so has this series for the year. In 2019, I experimented more with body creams, haircare, and nail polish. While re-introducing, mascara and eyeliner in September 2019.
Going forward I'm continuing this series every three months. If you'd like to see instant updates I do an Instagram series called Beauty Swap. There I show products I've replaced and why.
Here are my empties for November and December 2019.
Related: Products I Finished – September & October 2019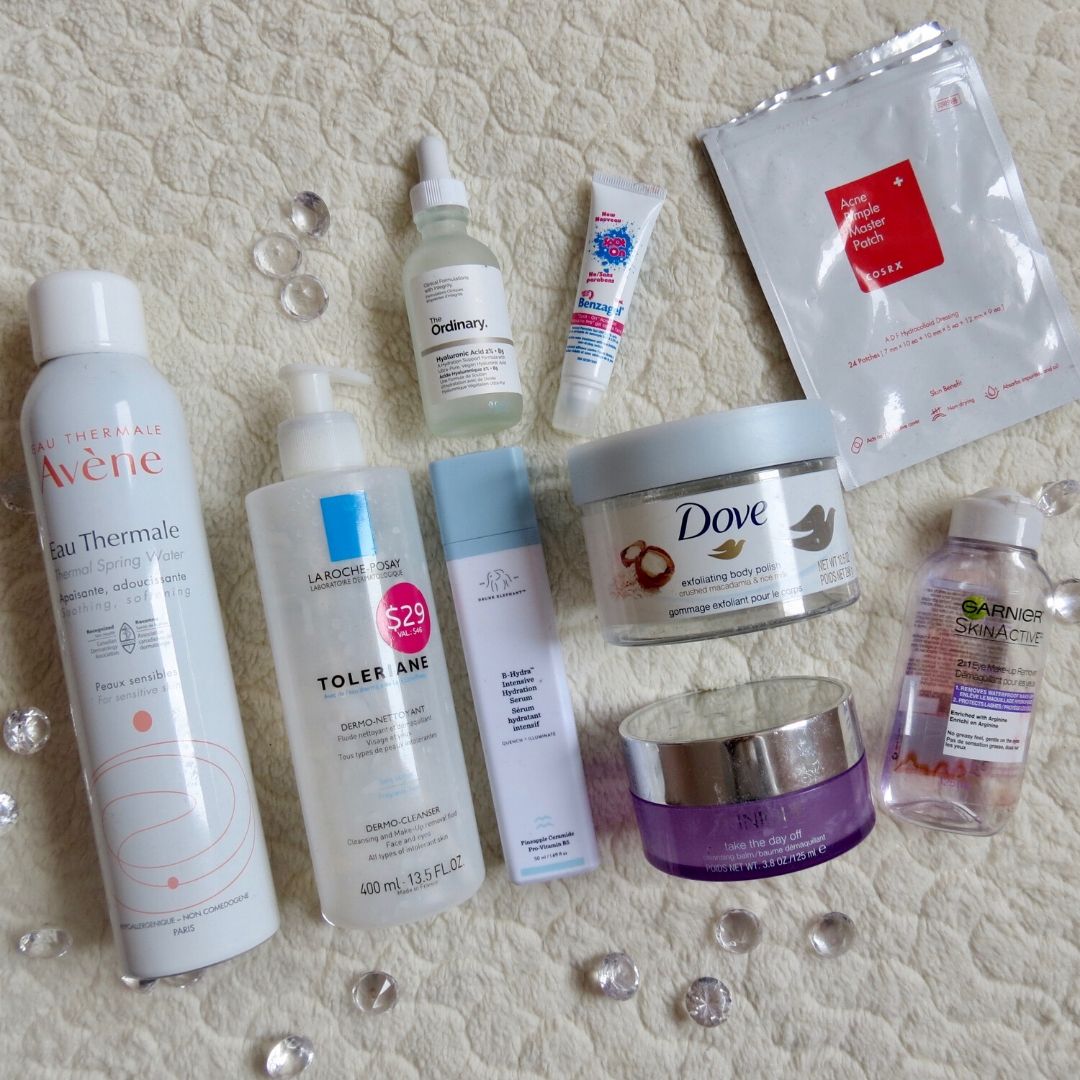 Skincare
Avène Thermal Spring Water (Product Review)
My favourite thermal water spray.
Re-Purchase? YES. (c$21.95 – 300ml Value-Size)
Benzagel Spot On Acne Gel
I picked up this spot treatment on a whim. Even though, it says it's non-drying it made my blemishes inflamed and sensitive.
Re-Purchase? NO. (c$12.79 – 15ml)
Clinique Take The Day Off Cleansing Balm (First Review)
My favourite cleansing balm.
Re-Purchase? YES. (c$40 – 125ml)
Cosrx Acne Pimple Master Patch
These are an alternative spot treatment to traditional topicals. They're non-drying and do help heal small blemishes. The reason why I'm apprehensive on re-purchasing them is because they're wasteful.
Re-Purchase? NO. (c$13.66 – Set of 3 Packages with 24 Patches)
Dove Exfoliating Body Polish Crushed Macadamia & Rice Milk
In the summer, I started exfoliating my body. There are no skincare benefits to it other than it is relaxing to apply. I want to try the other scents before re-purchasing the macadamia and rice milk version.
Re-Purchase? MAYBE. (c$13.49 – 298g)
Drunk Elephant B-Hydra Intensive Hydration Serum (First Review)
My favourite hydrating gel serum.
Re-Purchase? YES. (c$63 – 50ml)
Garnier SkinActive 2in1 Eye Make-up Remover
I was annoyed to find out that their is an essential oil in this eye makeup remover even though it's advertised as fragrance-free.
Re-Purchase? NO. (c$11.26 – 125ml)
La Roche-Posay Toleriane Dermo-Cleanser (Product Review)
My favourite facial cleanser.
Re-Purchase? YES. (c$29 – 400ml Value-Size)
The Ordinary Hyaluronic Acid 2% + B5 (First Review)
My favourite hyaluronic acid serum. This is also the value size which contains two months worth of daily product in one bottle.
Re-Purchase? YES. (c$12.20 – 60ml Value-Size)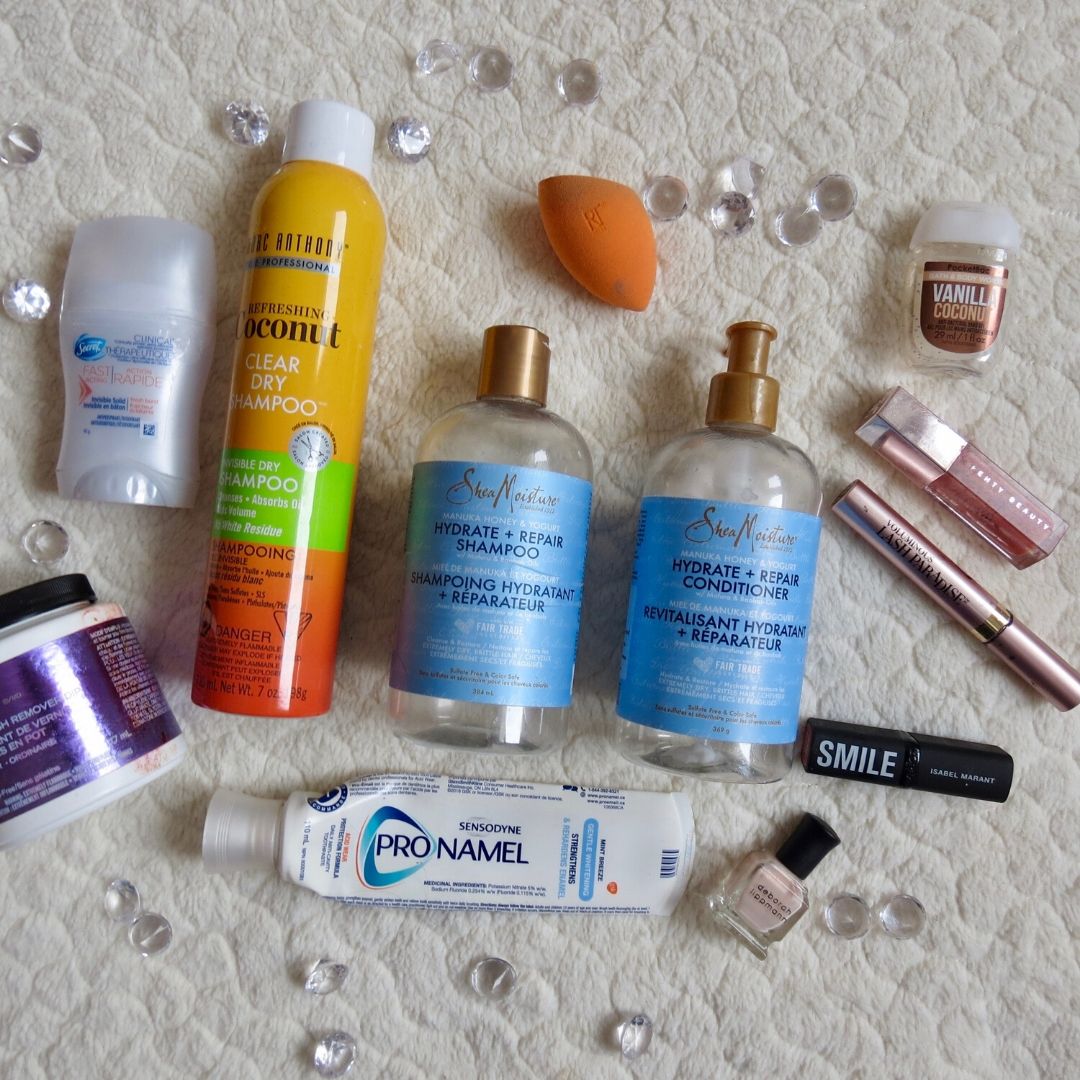 Makeup
Fenty Beauty Gloss Bomb in Fenty Glow
This lip gloss is as magical as Rihanna. It's moisturizing, non-sticky, and a gorgeous neutral shade. I'm not re-purchasing it right now because I have the shade Diamond Milk to finish. I also want to see what other shades they've released of it too.
Re-Purchase? MAYBE. (c$24 – 9ml)
L'Oréal Paris X Isabel Marant Color Riche Lipstick in Bastille Whistle
I'm a sucker for limited edition makeup especially if it's in collaboration with high fashion designers. The shade didn't appear well on my lips and the fragrance was irritating.
Re-Purchase? DISCONTINUED. (c$8.95 -4g)
L'Oréal Paris Voluminous Lash Paradise Mascara in Black
This drugstore mascara is popular and I understand why people love it. However, the product is messy and gets all over the packaging. It feels so unhygienic and I switched to another mascara because of it.
Re-Purchase? NO. (c$10.96 – 8.5ml)
Real Techniques Miracle Complexion Sponge (First Review)
My favourite makeup sponge.
Re-Purchase? YES. (c$8.99 – 1 Sponge)
Haircare
Marc Anthony Refreshing Coconut Clear Dry Shampoo
I recommend this dry shampoo if you're looking for a coconut hair fragrance. It didn't help refresh my hair but it smells delicious.
Re-Purchase? NO. (c$9.72 – 330ml)
Shea Moisture Manuka Honey & Yogurt Hydrate + Repair Shampoo
I adored the thick texture of this shampoo and it's scent. Even though, it's SLS-free there is an overwhelming amount of coconut oil in it which makes it pore clogging. My forehead blemishes stopped once I switched shampoos.
Re-Purchase? NO. (c$9.96 – 384ml)
Shea Moisture Manuka Honey & Yogurt Hydrate + Repair Conditioner
Similar to the shampoo, this conditioner has coconut oil in it. It didn't cause me as many blemishes because I only applied it to the ends of my hair. Also, the packaging on this product is not well designed.
Re-Purchase? NO. (c$9.96 – 369g)
Nails
Quo Nail Polish Remover Dip Regular
I thought a dip nail polish remover was a cool concept. Until, it kept getting previously worn nail polish all over my fingers. I would be removing a polish and still be getting the previous colours I wore before because it stayed in the sponge.
Re-Purchase? NO. (c$ – 177ml)
Other
Bath & Body Works PocketBac Vanilla Coconut Anti-Bacterial Hand Gel (First Review)
A vanilla coconut scented hand sanitizer that smells like a tropical vacation.
Re-Purchase? MAYBE. (us$6 – 29ml Pack of 5)
Secret Clinical Fast Acting Invisible Solid Fresh Burst
I bought this deodorant to see if there truly was a difference between the clinical version and the traditional. In my experience, there wasn't and I'm back to using an inexpensive traditional antiperspirant.
Re-Purchase? NO. (c$9.99 – 45g)
Sensodyne Pronamel Gentle Whitening Toothpaste (First Review)
My favourite SLS-free toothpaste.
Re-Purchase? YES. (c$8.09 – 110ml Value-Size)
---
What beauty products have you finished?
Let me know.