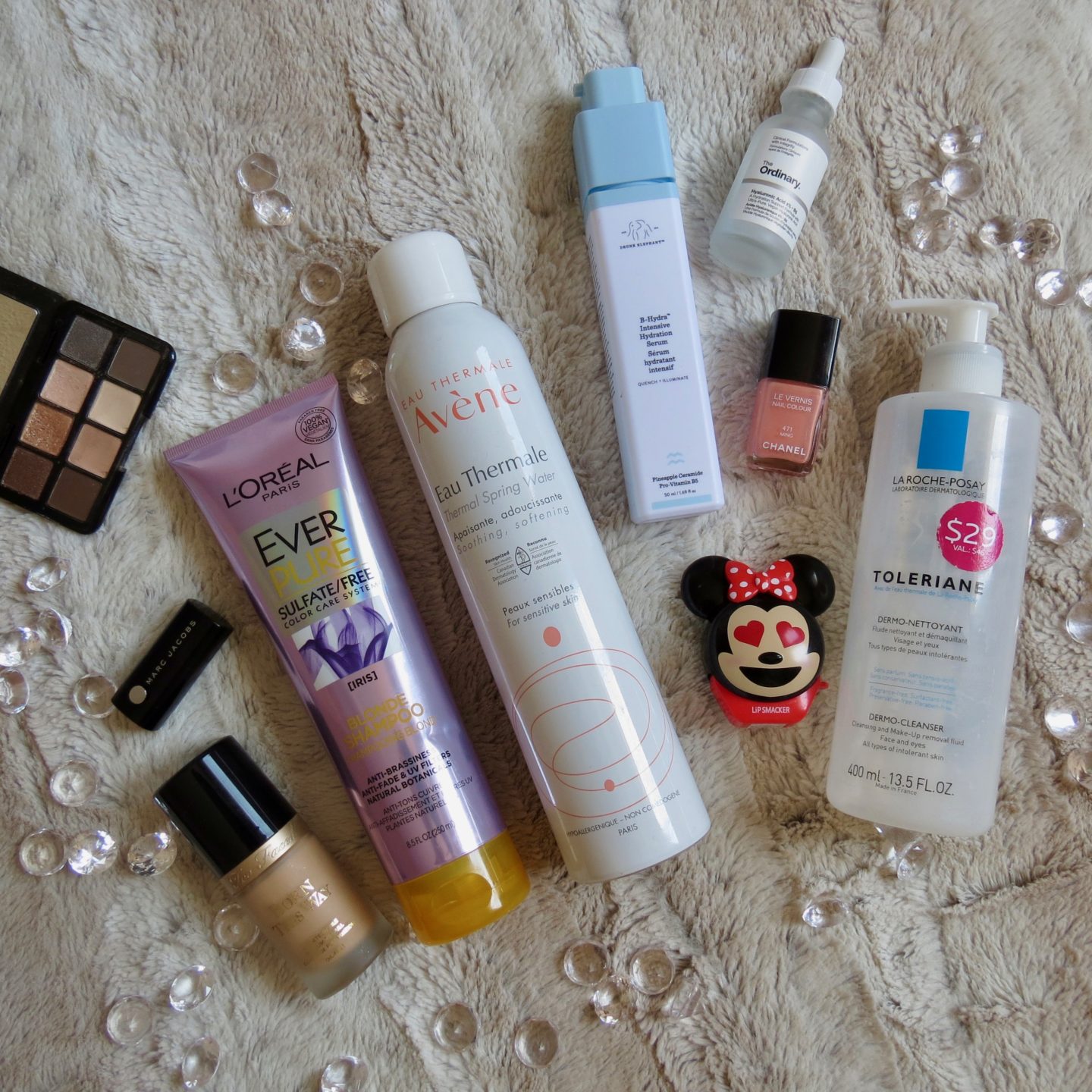 In May and June, I finished a handful of my most re-purchased products at once. I was stopping into to drugstores and Sephoras for necessities which is a rarity for me.
Here is the lengthy of collection of beauty products I finished in the past two months.
Related: Products I Finished – March & April 2019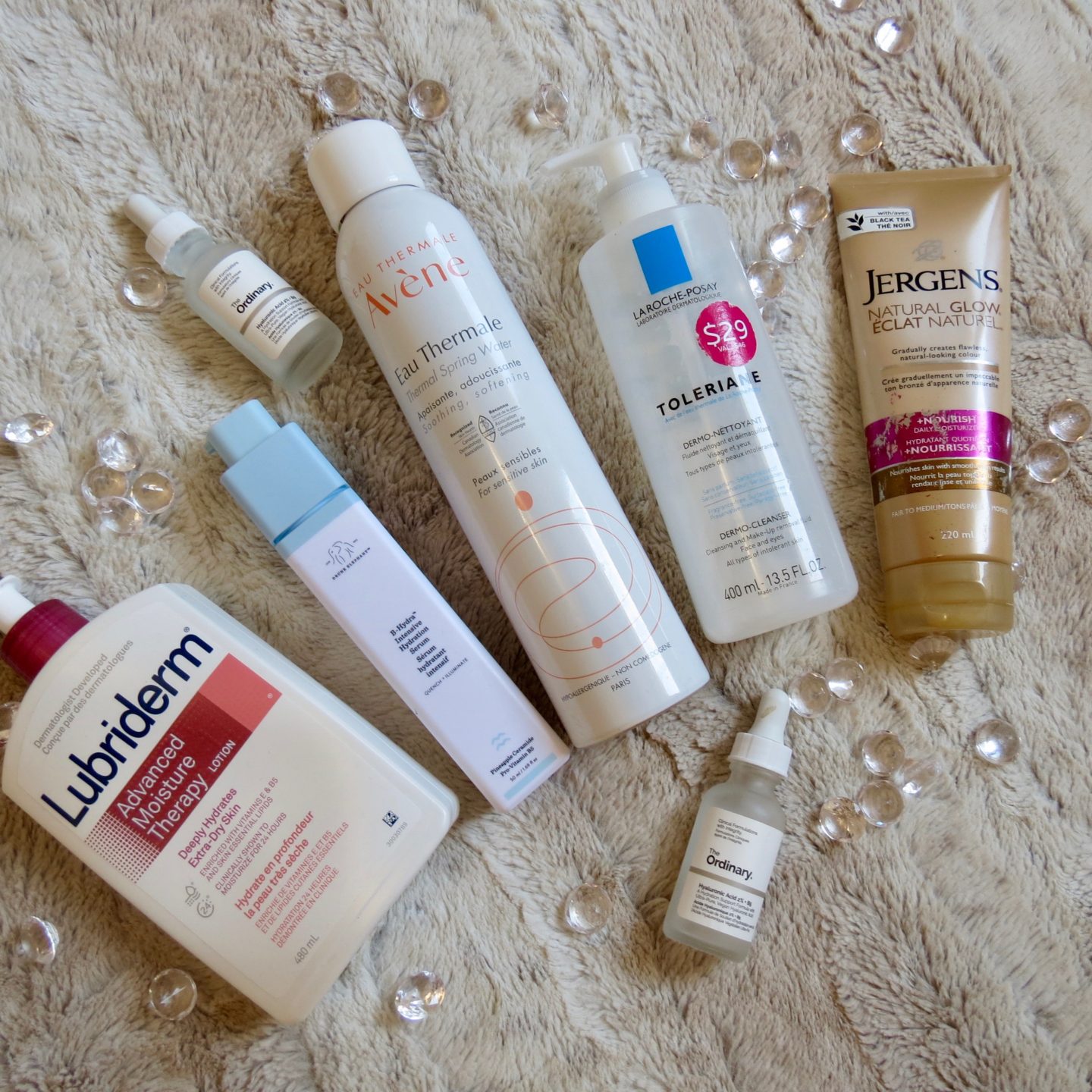 Products I Finished – May & June 2019
Skincare
My favourite thermal spring water spray.
Re-Purchase? YES. (c$21.95 – 300ml Value-Size)
My favourite hydrating gel serum.
Re-Purchase? YES. (c$68 – 50ml)
Every couple of years, I get this impulsive idea to buy an inexpensive self tanner to achieve a sun-kissed glow. The results of the self-tanners vary and the potent smell drives me to stop using them.
Re-Purchase? NO. (c$10.48 – 220ml)
My favourite facial cleanser.
Re-Purchase? YES. (c$29 – 400ml Value-Size)
This lotion is moisturizing and does exactly what it's advertised as. The mature fragrance, however, is the reason why I will not purchase it.
Re-Purchase? NO. (c$8.27 – 480ml)
My favourite hyaluronic acid serum.
Re-Purchase? YES. (c$6.80 – 30ml)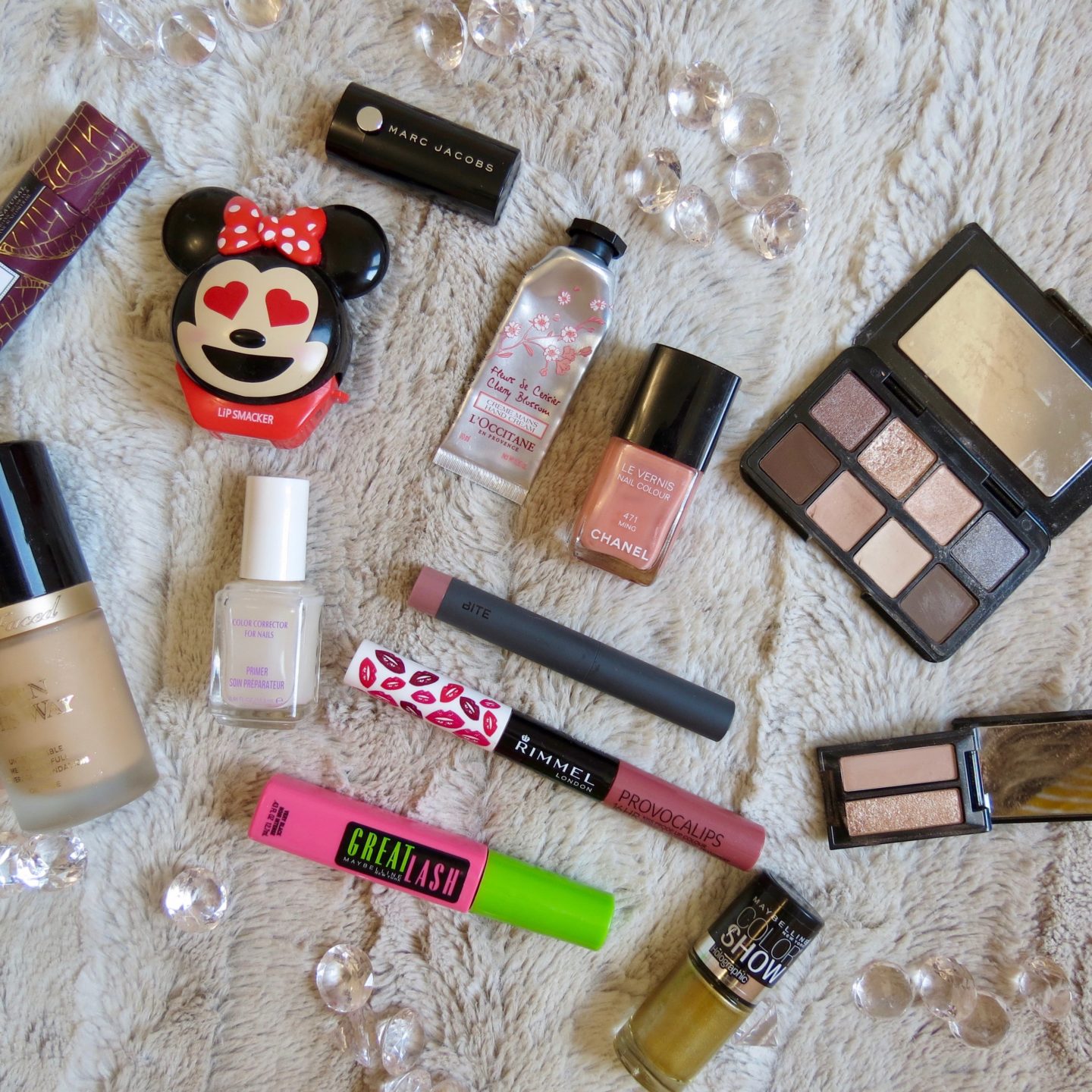 Makeup
This tinted lip balm has good intentions however it's drying and the colour does not suit my skin tone. I recommend Fresh Beauty Tinted Lip Balms for a similar product.
Re-Purchase? NO. (us$8 – 4.2g)
My mom was sweet and bought this lip balm for me when it was Mickey's 90th anniversary. The packaging is adorable and the flavour smells exactly like strawberry lemonade.
Re-Purchase? NO. (c$5.97)
When I was approved to wear mascara again, I purchased this drugstore classic because it's reliable and inexpensive. It smudges on my under eye and I've gone back to using CoverGirl mascaras.
Re-Purchase? NO. (c$4.96 – 12.7ml)
My friend recommended me this liquid lipstick because of its staying power and affordability. The only reason why I will not be re-purchasing it is because it's so difficult to remove.
Re-Purchase? NO. (c$8.98 – 4g)
When I received the Smashbox Full Exposure Eyeshadow Duo sample, I purchased the Travel Palette Mini soon after. I loved creating eyeshadow looks with this palette because it came with four neutral matte eyeshadows and four shimmer eyeshadows that were easy to use. This palette is now expired.
Re-Purchase? DISCONTINUED. (c$29 – 8 Mini Eyeshadows)
This foundation gives a natural coverage that blurs blemishes and leaves the skin looking healthy. I've trusted it on my skin for years and wear it on special occasions.
Re-Purchase? YES. (c$51 – 30ml)
Samples
This is not my first experience with Bite Beauty Glace Matte Crème Lip Crayon. This is the sample from the 2018 Sephora Birthday Gift and I will not buy it in the future.
Re-Purchase? NO. (c$28 – 1.56g Full-Size)
Cherry blossom is my favourite scent by L'Occitane. This hand cream is nourishing and smells no different than the other products in the line.
Purchase? MAYBE. (c$31 – 75ml Full-Size)
I've had trouble with shower oils before and was pleasantly surprised by this L'Occitane one. I will not purchase it but I do like how it suds up.
Purchase? NO. (c$32 – 250ml Full-Size)
Marc Jacobs lipsticks are so pigmented and luxurious. However, this mauve purple shade did not suit my skin tone.
Purchase? NO. (c$42 – 3.4g Full-Size)
Sensodyne is my favourite brand of toothpaste but this one does not cater to my needs. If you do have teeth sensitivity, I recommended trying this toothpaste because it does have a numbing effect.
Purchase? NO. (c$6.68 – 75ml Full-Size)
I received this sample years ago at a Sephora V.I.B. Rouge event. I liked the sample so much, I bought the Smashbox Full Exposure Travel Palette Mini a month later.
Purchase? NO. (c$62 – 14 Eyeshadows Full-Size)
Nails
This nail polish is sentimental because it was a high school graduation gift. Even though it expired years ago, I am ready to discard it to have more room in my collection. I'll be treating myself to more Chanel nail polishes in the future because they're a classic.
Re-Purchase? MAYBE. (c$33 – 13ml)
Essie Color Corrector For Nails Primer
This base coat is expired and ineffective. I replaced it with the Essie Strong Start Base Coat and it works much better.
Re-Purchase? DISCONTINUED. (c$10.29 – 13.5ml)
Maybelline New York Color Show Holographic Nail Lacquer
This is polish has lost its shelf life because Maybelline doesn't even make nail polishes anymore.
Re-Purchase? DISCONTINUED. (c$? – 7ml)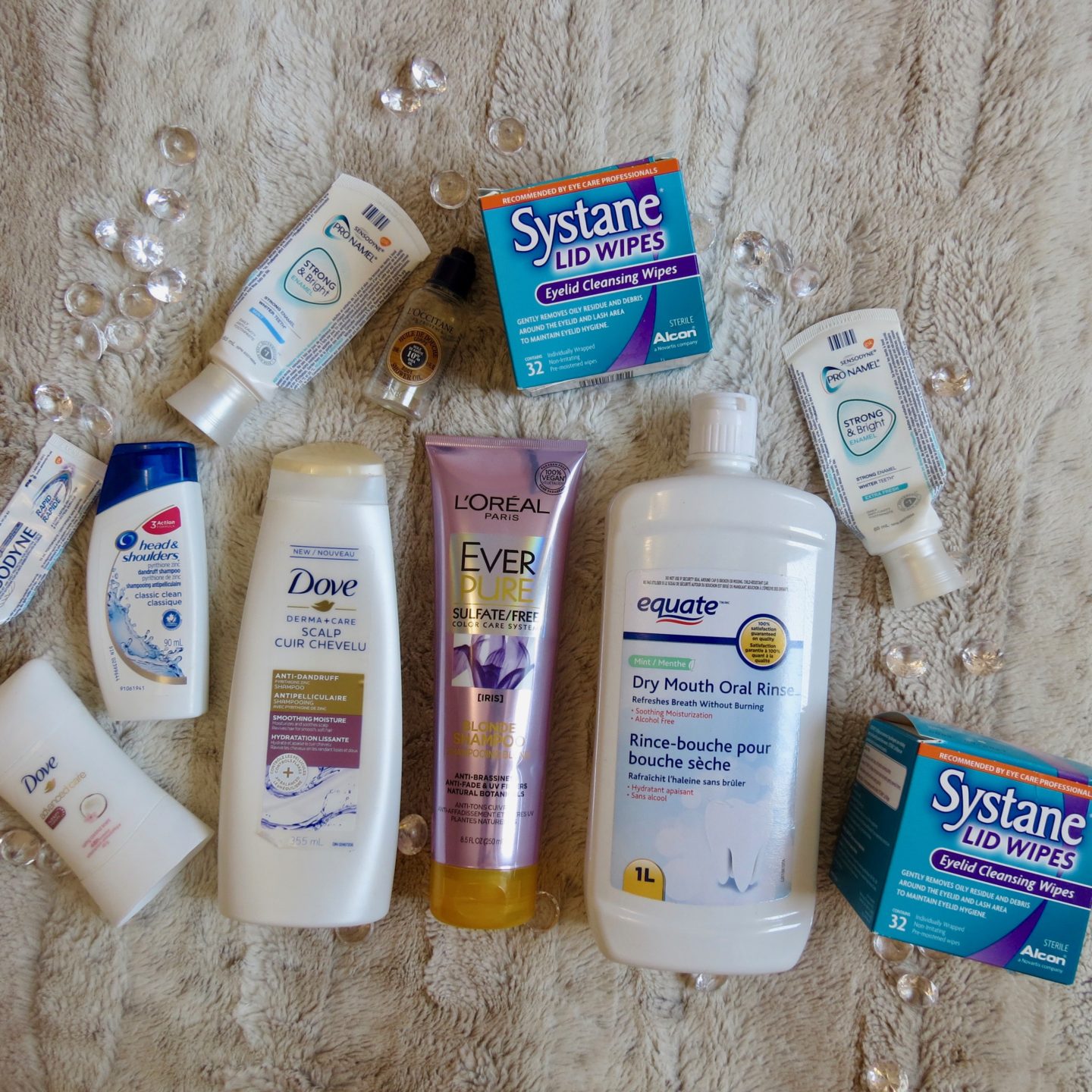 Dental Hygiene
A generic version of the Biotene Dry Mouth Moisturizing Wash.
Re-Purchase? NO. (c$11.97 – 1l Value-Size)
In my Products I Finished – March & April 2019, I mentioned that I was torn between this new toothpaste and my tried and true Sensodyne ProNamel Gentle Whitening. I am no longer torn and I've gone back to my favourite toothpaste. Sensodyne ProNamel Strong & Bright Enamel Toothpaste is more expensive than the value size of my regular toothpaste and I was going through one tube a month.
Re-Purchase? NO. (c$6.68 – 65ml Standard-Size)
Haircare
I've spoken about my experience with scalp psoriasis and how I wanted to switch from using Nizoral once a week to a traditional anti-dandruff shampoo full time. Switching was not effective and this Dove shampoo doesn't do what it's advertising. It's also full of sulphates which are drying on the scalp.
Re-Purchase? NO. (c$5.97 – 355ml)
A classic dandruff shampoo that gets the job done and is great for travel.
Re-Purchase? MAYBE. (c$3 – 90ml Travel-Size)
When I got highlights in December 2018, I was advised to use a blonde shampoo to help prevent brassiness. This is a great inexpensive purple shampoo and it works. When I used the shampoo, I felt like I was protecting my hair and making my blonde highlights last longer.
Re-Purchase? MAYBE. (c$9.98 – 250ml)
Other
A standard antiperspirant with a lovely coconut scent.
Re-Purchase? MAYBE. (c$3.96 – 45g)
My favourite eye lid wipes.
Re-Purchase? YES. (c$9.99 – 32 Wipes)
---
What beauty products have you finished?
Let me know.