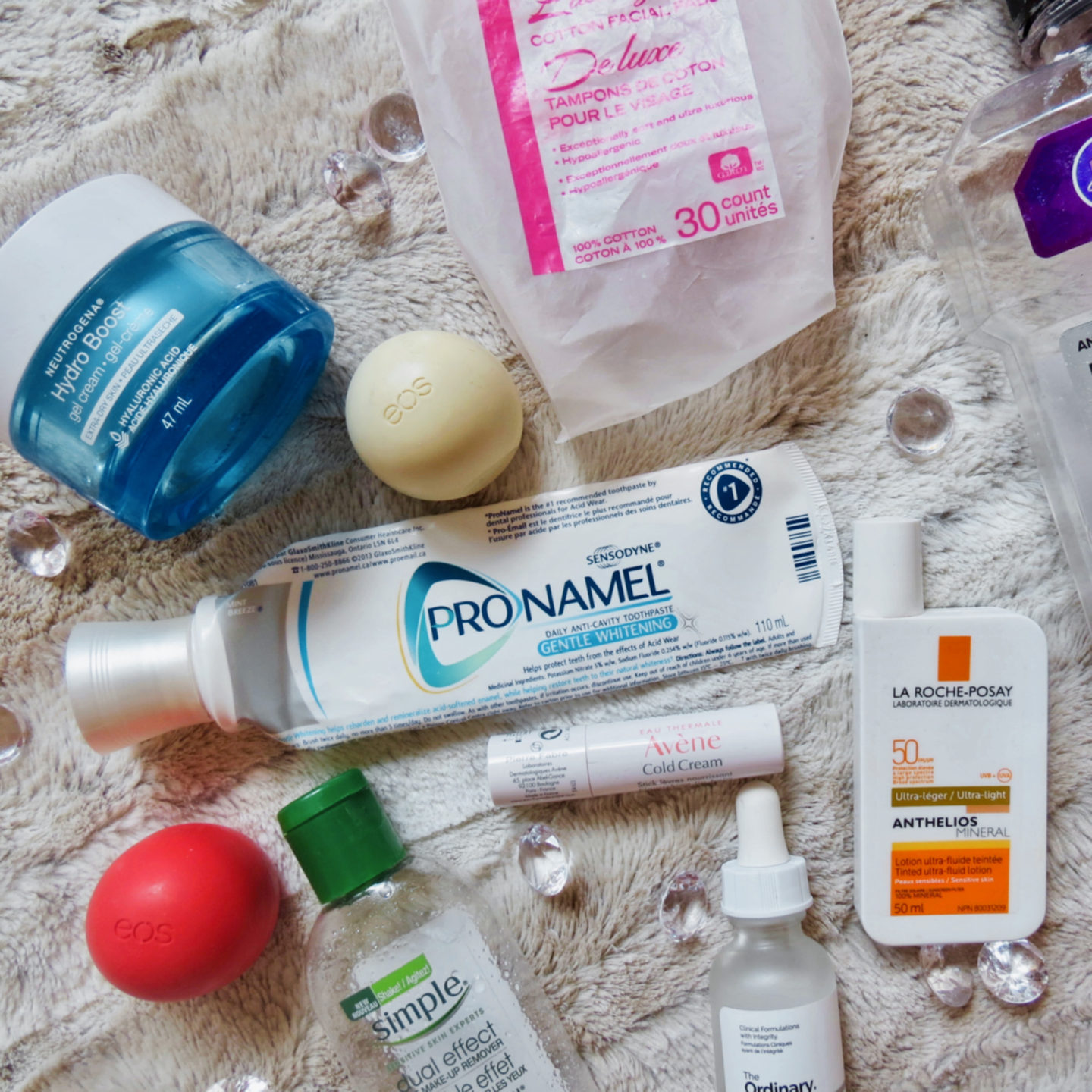 My month of June is incredibly hectics with work engagements and I've had to put my blog on hold. I did, however, not want to abandon my entry for this series in the month of May.
Related: Products I Finished – April 2018
Products I Finished – May 2018
Skincare
Unlike a lot of mineral sunscreens, this La Roche Posay one has a watery texture and no white cast because it's tinted. There is nothing specifically wrong with this fragrance-free cosmetically elegant sunscreen other than its warm tint that will not suit everyone's skin colour which is why I've found another mineral sunscreen that I prefer more than this one.
Re-Purchase? NO. (c$34 – 50ml)
My favourite drugstore fragrance-free and dye-free gel moisturizer.
Re-Purchase? YES. (c$25.99 – 47ml)
As a replacement, I found the Canadian brand Marcelle Gentle Makeup Remover For Sensitive Eyes which is less expensive, fragrance-free, and I get double the product (200 ml). I'll update you if I decide to go back to the Simple Kind to Skin Dual Effect Eye Makeup Remover or if I completely switch to the Marcelle one.
Re-Purchase? MAYBE. (c$8.99 – 100ml)
My favourite light inexpensive hyaluronic acid serum.
Re-Purchase? YES. (c$6.80 – 30ml)
Quo Luxury Cotton Facial Pads
Since I now remove my mascara with an eye makeup remover prior to double cleansing I've started using cotton pads again. I found these Quo Luxury Cotton Facial Pads in my collection because when I used to remove my makeup with micellar water and I was constantly searching for ultra-soft cotton pads that wouldn't irritate my skin. I'm not re-purchasing these Quo ones because they're expensive, they shed, and they don't fit into my round cotton pad dispenser.
Re-Purchase? NO. (c$8.99 – 30 pieces)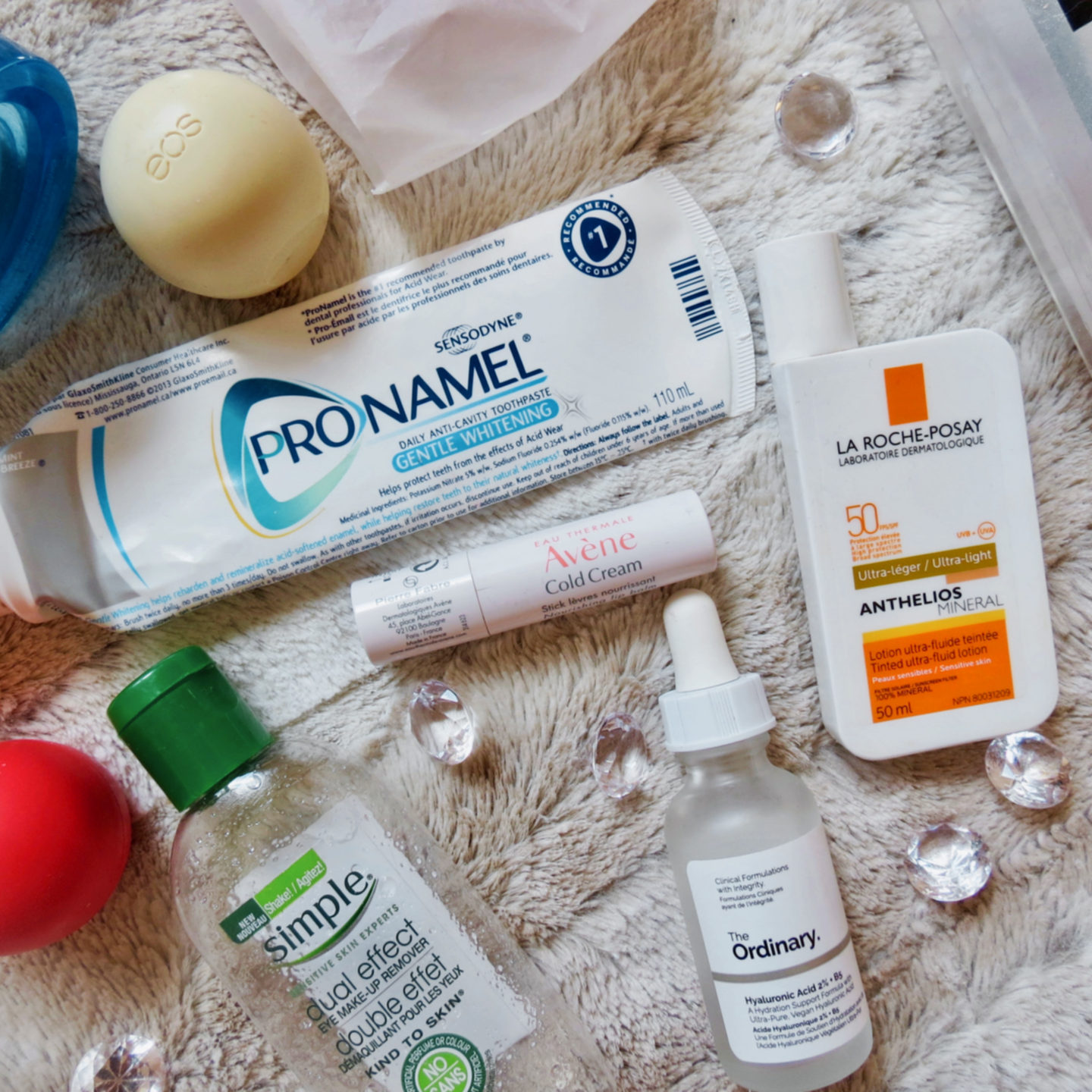 Makeup
My lips were starting to become sensitive when using super fragranced lip balms, so I sought out advice from my dermatologist and they recommended me three different lip balms. The first one was this Avene Cold Cream Lip Balm that I've used before and loved. It has ingredients in it like squalane, thermal spring water, shea butter, and glycerin that you would find in a French Pharmacy moisturizer and the best part is that the lip balm works.
Re-Purchase? YES. (c$15.99 – 4g)
My mother gifted me this lip balm and I was pleasantly surprised by its fruit punch flavour. I really recommend you give it a try during the Summer months.
Re-Purchase? NO. (c$4.49 – 7g)
I've officially gone through three gifted vanilla bean EOS lip balms this year and I've come to the conclusion that I don't dislike the lip balm but I don't love it enough to purchase it on my own.
Re-Purchase? NO. (c$4.49 – 7g)
Similar to the vanilla bean flavour, I've gone through two gifted sparkling ginger EOS lip balms and have no intention of purchasing one on my own.
Re-Purchase? NO. (c$4.49 – 7g)
Other
This purple dyed mouthwash is similar to any other alcohol-based antiseptic mouthwash. However, you cannot tell me that there isn't a hint of grape flavour in it.
Re-Purchase? NO. (c$12.99 – 1l)
My favourite drugstore SLS-free whitening toothpaste.
Re-Purchase? YES. (c$8.99 – 110ml)
Thank you so much for reading this post and keeping up with this series!
---
What beauty products have you finished?
Let me know!