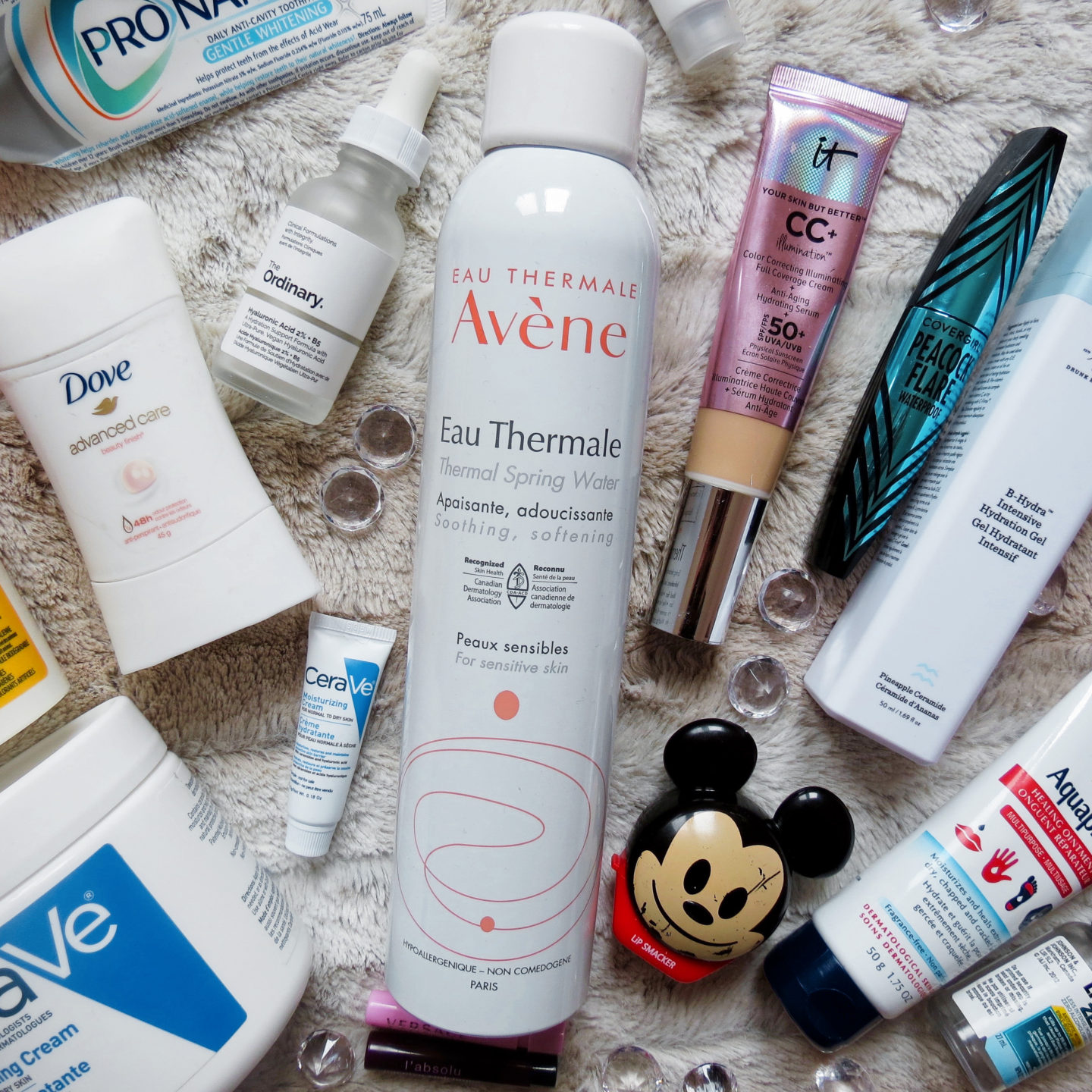 I introduced a series in March called "Products I Finished" to share beauty and lifestyle products in my collection that I had completed in the previous month. It's hard to believe in just one month, I began to realize what products I purchased too frequently (cough, cough lip balm) and what products had expiration dates approaching soon.
Leading to this lovely stash of skincare and makeup 'empties' in March 2018!
Related: Products I Finished – February 2018
Products I Finished – March 2018
Skincare
I thought thermal spring water sprays were a placebo product till I watched a famous French spa esthetician on YouTube incorporate it into her skincare routine. She explained that France's tap water is hard and can be drying on the skin which is why they were the first to create micellar waters and thermal spring water sprays. I spray the spring water on my face after cleansing and then apply my hyaluronic acid serum immediately. You can notice a difference because the hyaluronic acid is soaking up the French Spring Water rather than the tap water and keeping your skin even more hydrated.
Re-Purchase? YES. (C$18.29 – 150ml)
If I could sign up for a subscribe and save on this Drunk Elephant product, I would. This hydrating gel serum is sandwiched between my thin hyaluronic acid serums and my emollient-rich cream. My favourite ingredient in this serum is pineapple ceramide which helps restore and protect your skin's moisture barrier. I only use one pump twice a day because I want to savour the product since it's such an investment.
Re-Purchase? YES. (C$64 – 50ml)
After three months of using this product, I finally finished my 453g tub of goodness. I was recommended it by my dermatologist and purchase it because it's full of ceramides and hyaluronic acid. I apply the emollient-rich and non-comedogenic fragrance-free cream after my serums to make sure I lock them in before applying my sunscreen in the morning or my occlusive at night. If you are new to moisturizing I really recommend giving this cream a try because the ingredients are amazing and the price is so right.
Re-Purchase? YES. (C$25.49 – 453g)
I can admit that this stuff is practically magic vaseline. It is loaded with wonderful ingredients like lanolin, glycerin, and panthenol that are hydrating and have the ability to heal dry cracked skin. It is also a multipurpose product that can be both used as an ointment or lip balm. I prefer the travel size Eucerin Aquaphor because the product cannot be contaminated as easily as the jar version can.
Re-Purchase? YES. (C$10.99 – 50g)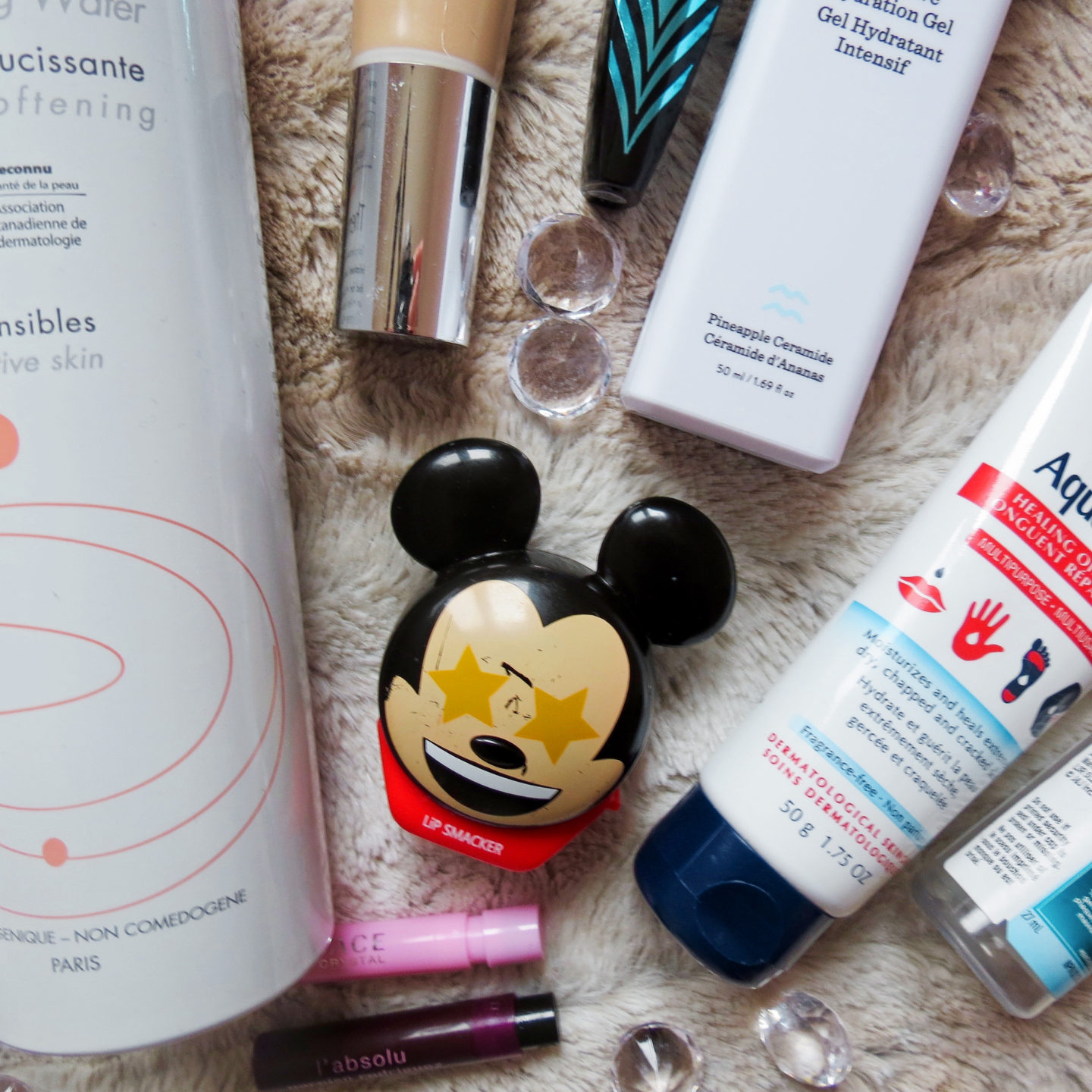 Makeup
When I use mascara, I want there to be some sort of 'wow' factor be it giving volume or lengthening my lashes. This CoverGirl mascara didn't make the cut and I'm not interested in re-purchasing it. However, it doesn't mean you wouldn't like it because there was no smudging, flaking, or clumping.
Re-Purchase? NO. (C$9.97 – 10ml)
This is one of those makeup products where you try to make yourself like it because so many others do. Before purchasing it, I read so many five star reviews on this CC+ Cream because of its hydrating ingredients, medium to full coverage, and 50+ SPF sunscreen. However, every time I used it I felt like I got a couple of small pimples after wearing it and I think it was my skin reacting to the lemon oil, orange oil, and other 'natural fragrances' they've added to the foundation.
Re-Purchase? NO. (C$49 – 32ml)
Lip Smacker Candy Cane Lip Balm (Limited Edition)
I treated myself to this lip balm in the holiday season of 2017 and completely finished it in about four months. The reason why it took so long to finish this lip balm was that it had too much product and I became tired of the candy cane flavour once the holiday season passed. Plus, it had a thick pale pink residue.
Re-Purchase? NO. ($4.95 – 17g)
I purchased this lip balm solely for the packaging and my love of Disney. I finished it quickly and the lip balm itself was poorly designed and would open up in my handbag. Not to mention, the lip balm was in ice cream parlour flavour and had a thick white residue.
Re-Purchase? NO. ($4.95 – 7.4g)
Samples
This was a sample I received from my dermatologist before purchasing the larger tub of cream.
Purchase? YES. (C$25.49 – 453g)
Another cream sample from my dermatologist that didn't improve my eczema patches.
Purchase? NO. (C$19.79 – 57g)
This was a sample I received from my dentist. It is basically the name brand version of Exact Alcohol-Free Antiseptic Mouthwash I was using.
Purchase? MAYBE. (C$11.99 – 1l)
My thoughts go back and forth on this perfume sample because the scent was intoxicating and memorable. It is also long-lasting, strong, and has notes of jasmine. Every time I wore it, my mom always mentioned that she was going to steal the sample from me. It would be a well-suited perfume for someone who is more mature and in their 30s.
Purchase? MAYBE. (C$144 – 98ml)
A refreshing scent with notes of pomegranate, peony, lotus flower, and more. The lasting power was not that long and the scent wasn't memorable on my skin. It's nothing like those perfumes infused with pheromones for men and women, of course, see this is the type of scent you want. A sweet inviting smell that is going to have an effect on people wherever you go. In fact, this is what perfumes are meant to do! I don't want any more of those short-lasting scents that fade away, it's a waste of money!
Purchase? NO. (C$126 – 90ml)
Other
Is deodorant technically a beauty product? There was nothing special or surprising about this deodorant but I do not appreciate the glitter and I do not want it anywhere near my armpits.
Re-Purchase? NO. (C$6.59 – 48g)
Exact Alcohol-Free Antiseptic Mouthwash
Last month, I reviewed a toothpaste – so this month I'm reviewing a mouthwash. My consensus? It came in a litre bottle, it was inexpensive, and it didn't burn the inside of my mouth.
Re-Purchase? MAYBE. (C$4.25 – 1l)
Previously Reviewed
Thank you for reading my post! If you still enjoy this series – please let me know in the comments!
---
What beauty products have you finished?
Let me know!
SaveSaveSaveSaveSaveSaveSaveSaveSaveSaveSaveSaveSaveSave
SaveSave
SaveSave
SaveSaveSaveSave