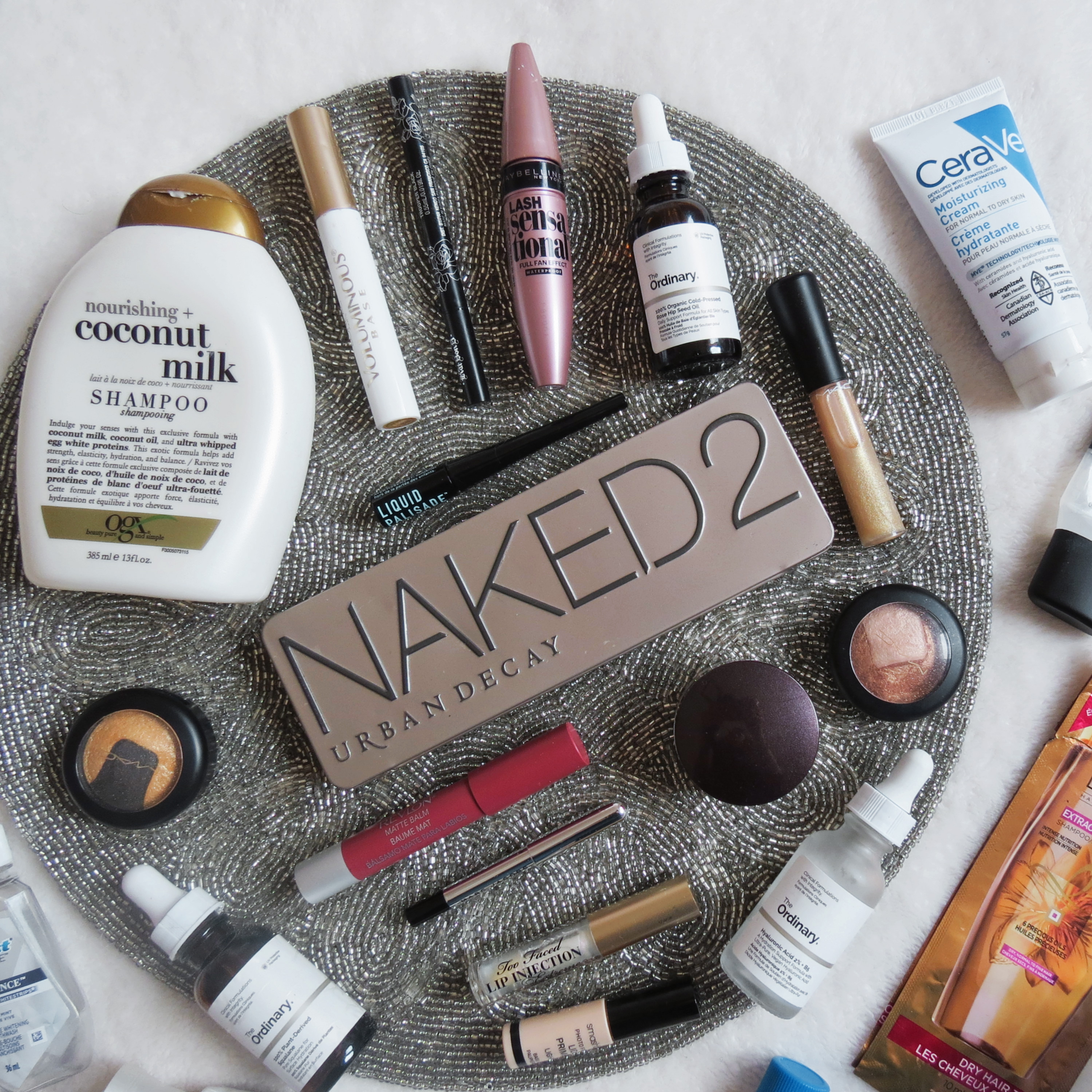 This will be the longest installment of the 'Products I Finished' series because on-top of emptying fourteen products, I cleaned out my skincare and makeup collection for the Summer. Even though decluttering was a long process I am happy to share all these mini-reviews with you!
Related: Products I Finished – June 2018
PRODUCTS I FINISHED – JULY 2018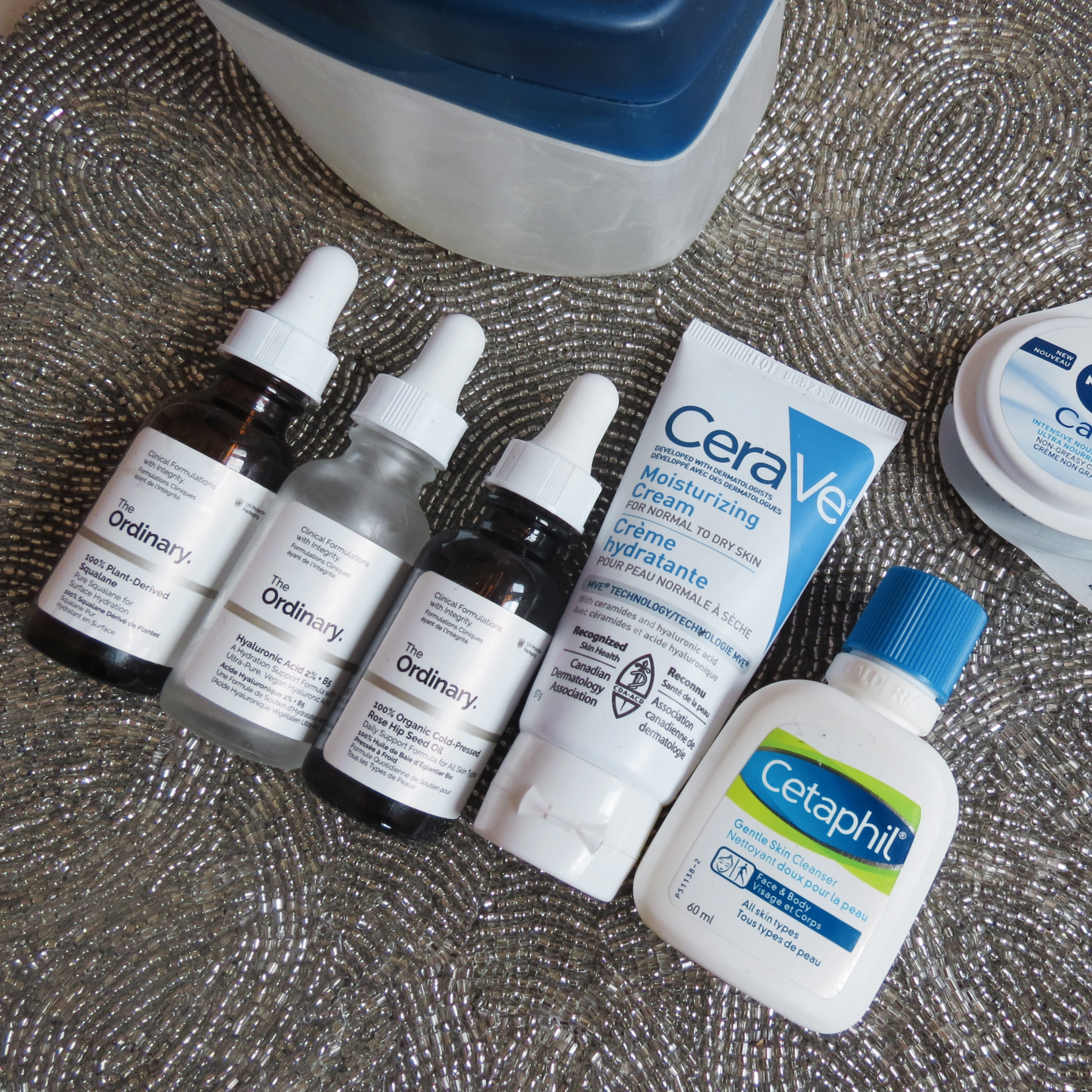 SKINCARE
Cetaphil Gentle Skin Cleanser Travel Size
When I had an allergic reaction to a Victoria's Secret body wash I went through my skincare collection and found this fragrance-free cleanser. I don't recommend using it as a body wash though because it has sulfates in it which can be drying on the skin.
Re-Purchase? NO. (c$3.49 – 60ml)
Cerave Moisturizing Cream Travel Size (First Review)
This is my favourite emollient-rich moisturizer that I use. I'm still working through my large tub and will re-purchase another travel size version when it's closer to Winter time.
Re-Purchase? YES. (c$7.72 – 56ml)
The Ordinary 100% Cold-Pressed Rose Hip Seed Oil
Rosehip seed oil is beneficial if you have hyper-pigmentation because of its high potency of Vitamin A that can heal acne scars and brighten dark spots. Unfortunately, rosehip seed oil did not work for my skin.
Re-Purchase? NO. (c$9.90 – 30ml)
The Ordinary Hyaluronic Acid 2% + B5 (First Review)
My favourite inexpensive hyaluronic acid serum. I use one dropper of product twice a day and I go through one bottle a month.
Re-Purchase? YES. (c$6.80 – 30ml)
The Ordinary 100% Plant-Derived Squalane
Squalane is a hydrating oil found in olives that moisturize and heals dry damaged skin. Similar to rose hip seed oil, it did not work for my skin. If you'd like to try squalane oil, I recommend adding one drop to your evening moisturizer.
Re-Purchase? NO. (c$7.90 – 30ml)
Vaseline Petroleum Jelly Original
Months ago, I would use vaseline as an occlusive step in my skincare routine which essentially protects your skin from external factors. Over time, I became tired of going to sleep with my face covered in vaseline and decided that finishing with my skincare routine with a moisturizer was enough. However, you should have vaseline in your medicine cabinet.
Re-Purchase? YES. (c$5.29 – 375g)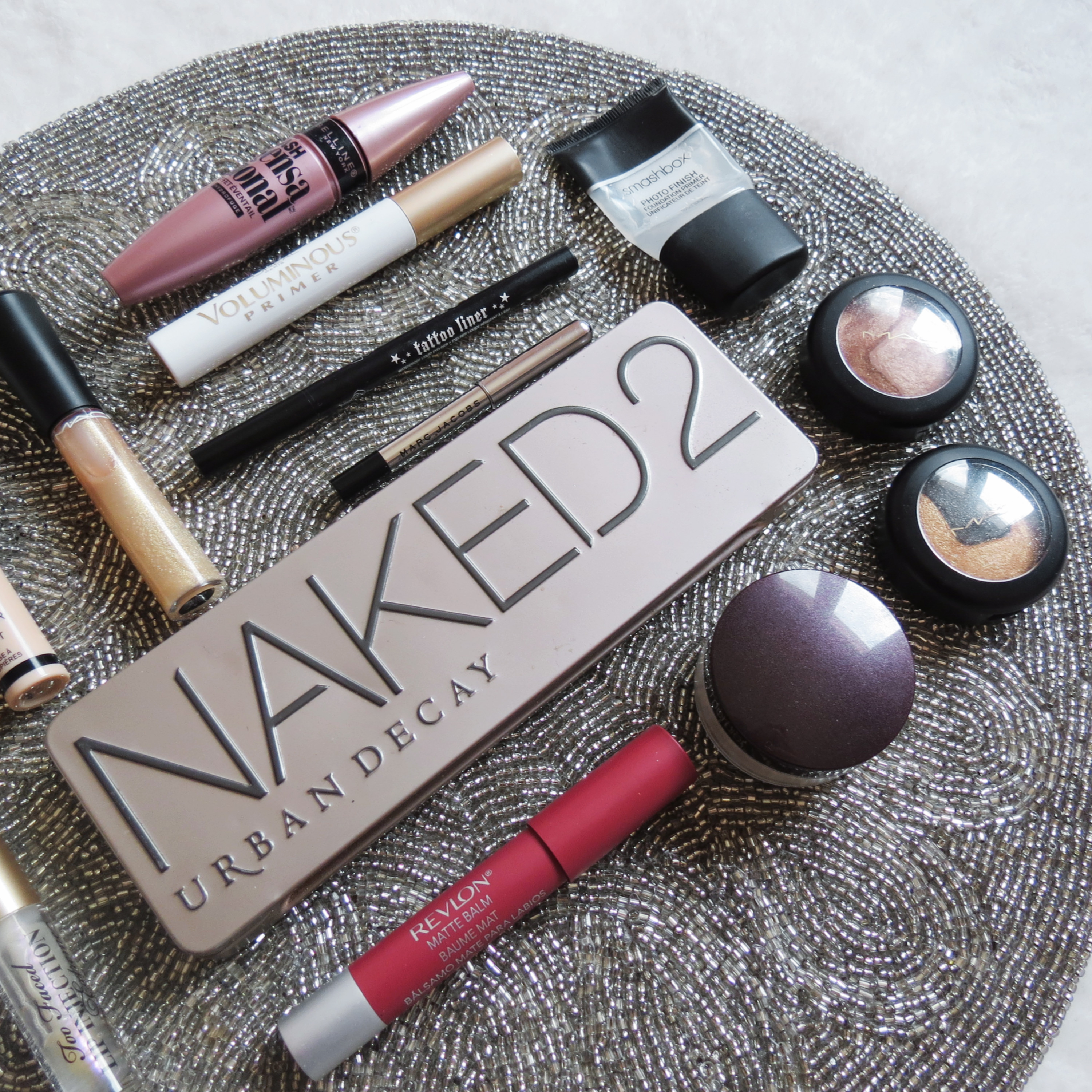 MAKEUP
Kat Von D Tattoo Liner Tropper Black
I no longer support Kat Von D and Kat Von D Beauty.
Re-Purchase? NO. (c$25.00 – 0.55ml)
Laura Mercier Translucent Loose Setting Powder Mini
When the trend of 'baking' appeared this powder was the one to purchase. I felt that over time 'baking' dried my under-eyes and the fragrance irritated my skin. However, if you are interested in trying the 'baking' trend purchase the mini of this powder first because you get a lot of product.
Re-Purchase? NO. (c$30.00 – 9.3g)
L'Oreal Paris Voluminous Primer Mascara
This primer is amazing at achieving voluminious eyelashes because it allows you to apply two coats of mascara (your primer mascara + your original mascara) without it looking clumpy. Although, it does make your mascara difficult to remove at the end of the night. So if you are looking for a volumizing mascara, make sure you take a look around at other brands to get the one that is right for you.
Re-Purchase? NO. (c$6.72 – 7.3ml)
M.A.C. Warehouse Sale Products
I made the decision to stop going to makeup warehouse sales because they sell mostly discontinued goods that are likely expired. In the end, you are putting yourself at risk for discounted items and not making a good investment. I found that the warehouse products were not M.A.C.'s store quality and that I didn't reach for them.
Re-Purchase? Discontinued.
Maybelline Lash Sensational Full Fan Effect Waterproof Mascara
I fell in love with the dramatic look this drugstore mascara gave even though it was the most difficult product to remove. I will not be re-purchasing this mascara or any other waterproof mascara for that reason from now on.
Re-Purchase? NO. (c$6.96 – 9ml)
Revlon Matte Balm 225 Sultry
In 2016, Allure named this drugstore balm one of the best lipsticks of the year and I wore it so much that I purchased back-ups. This is my third and last back-up because the matte balms have been discontinued. I loved the rose shade, disliked its peppermint fragrance, and have sworn off crayon-like packaged lipsticks.
Re-Purchase? Discontinued.
Smashbox Photo Finish Foundation Primer Mini
I've used this primer for years and only bought the mini version because I've never felt comfortable spending $44 dollars on a primer that was pure silicone. Recently, I was told by a friend that The Ordinary High-Adherence Silicone Primer is practically identical to this primer and it's under $10 dollars. So, I'm trying The Ordinary one and then deciding if I'm going to splurge on the Smashbox or leave it behind.
Re-Purchase? MAYBE. (c$20.00 – 15ml)
Too Faced Lip Injection Extreme Mini
This purchase was a classic case of indulging in the Sephora checkout line. I only felt like it was plumping my lips because of its intense peppermint fragrance and stinging feeling. When in reality, I don't think it was working.
Re-Purchase? NO. (c$17.00 – 1.5g)
Urban Decay Naked 2 Eyeshadow Palette
This is sentimental because it was my first high-end eyeshadow palette I purchased from Sephora when I was in High School. That being said, I graduated high school years ago which means that this palette is way past its expiration date. I recommend this palette for someone who suits cool tones and loves shimmery eyeshadows.
Re-Purchase? NO. (c$66.00 – 12 x 1.3g)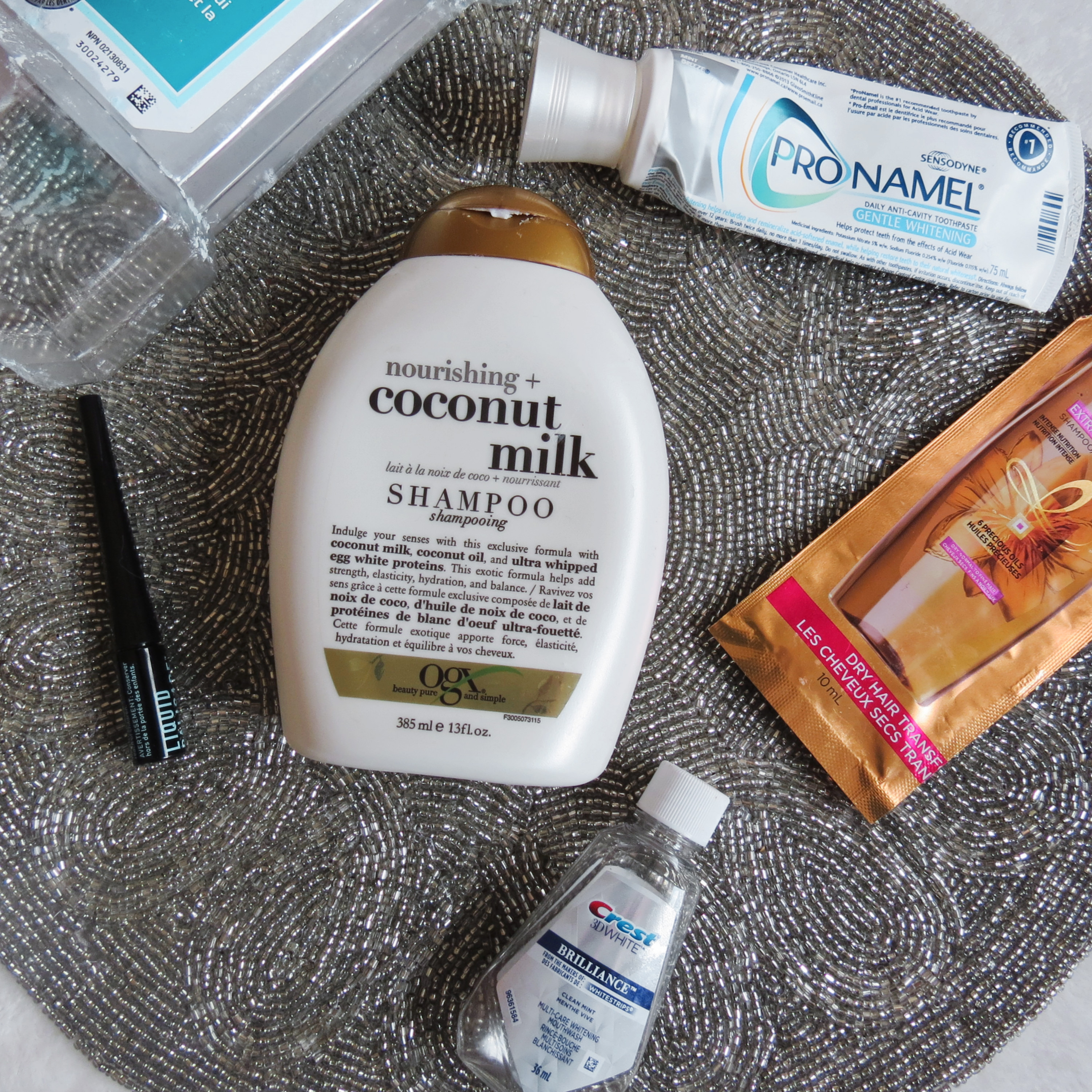 SAMPLES
Crest 3D White Brilliance Antiseptic Mouthwash
This is a mouthwash that promised teeth whitening on top of its other benefits.
Purchase? MAYBE. (c$6.96 – 1l Full Size)
L'Oreal Paris Extraordinary Oil Shampoo and Conditioner
If this shampoo and conditioner didn't have sulfates in it, I would purchase it. The combination of the fragrance and the oils were divine.

Purchase? NO. (c$8.25 – 385ml Full Size)
Marc Jacobs Highliner Gel Crayon Blackquer
If I used pencil eyeliner on a daily basis I would invest in this Marc Jacobs liner because it is pigmented, smudge-proof, and creamy.
Purchase? NO. (c$31.00 – 0.5g Full Size)
A body moisturizer that is a light version of the original Nivea cream. It has fragrance in it.
Purchase? NO. (c$12.97 – 400ml Full Size)
Smashbox Photo Finish Lid Primer Light
I received this in an Ipsy bag and found it drying. I no longer use lid primer and find the step unnecessary unless you are doing complicated eyeshadow looks.
Purchase? NO. (c$26.00 – 2.2g Full Size)
OTHER
Kiesque Liquid Palisade Easy-Peel Polish Barrier
This is yet another Sephora check out line purchase. It is described as an easy-peel polish barrier which essentially means that you're applying a glue around your nails to prevent them from becoming messy when painting them. The easy-peel polish barrier is expensive and dries up quickly. I recommend using a nail polish remover and q-tip to fix your nail edges when giving yourself a manicure. You can no longer purchase this product at Sephora.
Re-Purchase? NO. (c$14.00 – 9.07g)
Listerine Cool Mint Antiseptic Mouthwash
The standard blue mouthwash. I rinse my mouth twice a day and went through the bottle in a month.
Re-Purchase? MAYBE. (c$5.77 – 1l)
OGX Nourishing + Coconut Milk Shampoo (First Review)
I am trying another OGX shampoo after the Nourishing + Coconut Milk because I want to test others in their line. I went through this shampoo bottle in six months and I recommend placing the bottle upside down to squeeze out all the product.
Re-Purchase? MAYBE. (c$8.47 – 385ml)
Sensodyne Pronamel Gentle Whitening Tooth Paste (First Review)
My favourite sulfate-free whitening toothpaste. I brush my teeth twice a day and went through this tube in a month.
Re-Purchase? YES. (c$4.34 – 75ml)
Thank you so much for reading this post and keeping up with this series!
---
What beauty products did you finished?
Let me know!