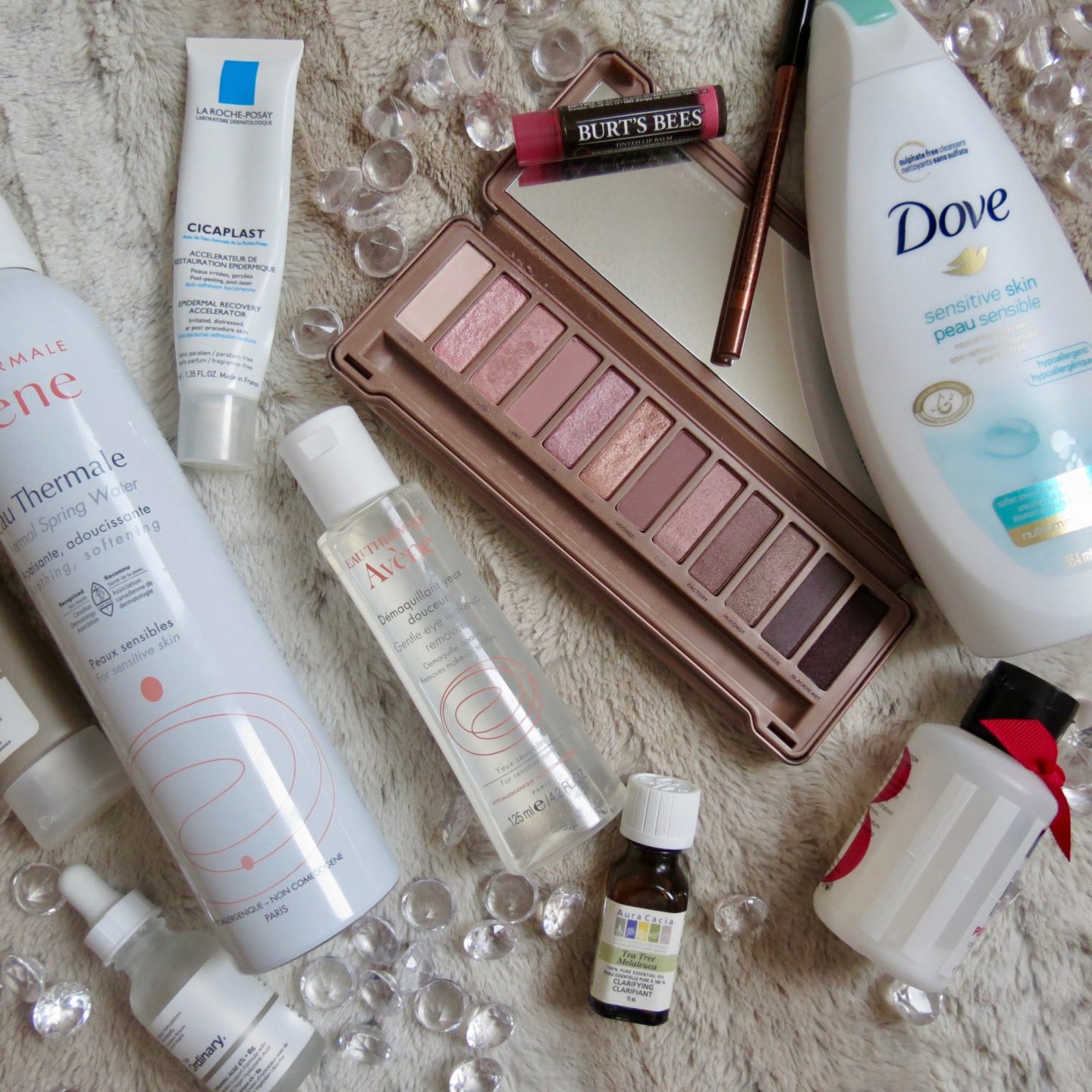 Throughout January, I find myself inspired to declutter my skincare and makeup collection. This usually leaves me with a pile of products to either donate or recycle. Here are the January 2019 products I will be saying goodbye to in February.
Related: Products I Finished – December 2018
Products I Finished – January 2019
Skincare
Avene Gentle Eye Makeup Remover
This gel consistency eye makeup remover made it easy to squeeze onto cotton rounds before application. The scent, however, did not agree with me and this is why I will not be re-purchasing it.
Re-Purchase? NO. (c$19.50 – 125ml)
Avene Thermal Spring Water Spray (First Review)
My favourite facial mist.
Re-Purchase? YES. (c$21.95 – 300ml)
Aura Cacia Tea Tree 100% Pure Essential Oil
Tea tree oil can be added to your hair care products or used as a great room spray when it's diluted. On the internet, people sometimes suggest using it as an acne spot treatment and I will advise you against it. It's too strong and will burn your skin if used haphazardly.
Re-Purchase? NO. (c$10.29 – 15ml)
Dove Sensitive Skin Body Wash (First Review)
My favourite fragrance-free body wash.
Re-Purchase? YES. (c$7.79 – 354ml)
La Roche-Posay Cicaplast Gel B5
This balm is used to protect irritated, distressed, or post-procedure skin. You can use apply it on your dry patches or your chapped lips. It is a similar product to Eucerin Aquaphor Healing Ointment and can be used as a light occlusive.
Re-Purchase? NO. (c$20 – 40ml)
The Ordinary Hyaluronic Acid 2% + B5 (First Review)
My favourite hyaluronic acid serum.
Re-Purchase? YES. (c$6.80 – 30ml)
Makeup
Burt's Bees Hibiscus Tinted Lip Balm
Once I received Fresh Beauty Sugar Tinted Lip Balms my desire to use Burt's Bees Tinted Lip Balms went away. They are great though if you want to have moisturized tinted lips without having to carry both a lip balm and lipstick with you.
Re-Purchase? NO. (c$6.29 – 4.25g)
NYX Golden Bronze Slide On Eye Pencil
I have this eye liner because I watched a Vogue YouTube video of a blue-eyed model using a brown eye pencil. A brown eyeliner can bring out the blue in your eyes and will appear less harsh than a black eyeliner. The reason why I'm letting this pencil go is because I hardly use eye liners and it was just sitting in my collection.
Re-Purchase? NO. (c$9.99 – 1.20g)
The Ordinary High-Adherence Silicone Primer
I used The Ordinary High-Adherence Silicone Primer three times before setting it aside. The product's slippery feeling on my skin and how long it took to dry before applying face makeup didn't agree with me. I also didn't want to admit failure by immediately purchasing my beloved Smashbox The Original Photo Finish Foundation Primer, so, I decided to stop using primer altogether.
Re-Purchase? NO. (c$4.90 – 30ml)
Urban Decay Naked3 Eyeshadow Palette
Similar to the Urban Decay Naked2 Eyeshadow Palette, this product is now expired and I truly did not use it to its potential. However, when I did reach for it I would go super light handed with the brush because I was afraid of how my eyes would look like with pink eyeshadow.
Re-Purchase? NO. (c$66 – 12 Eyeshadows)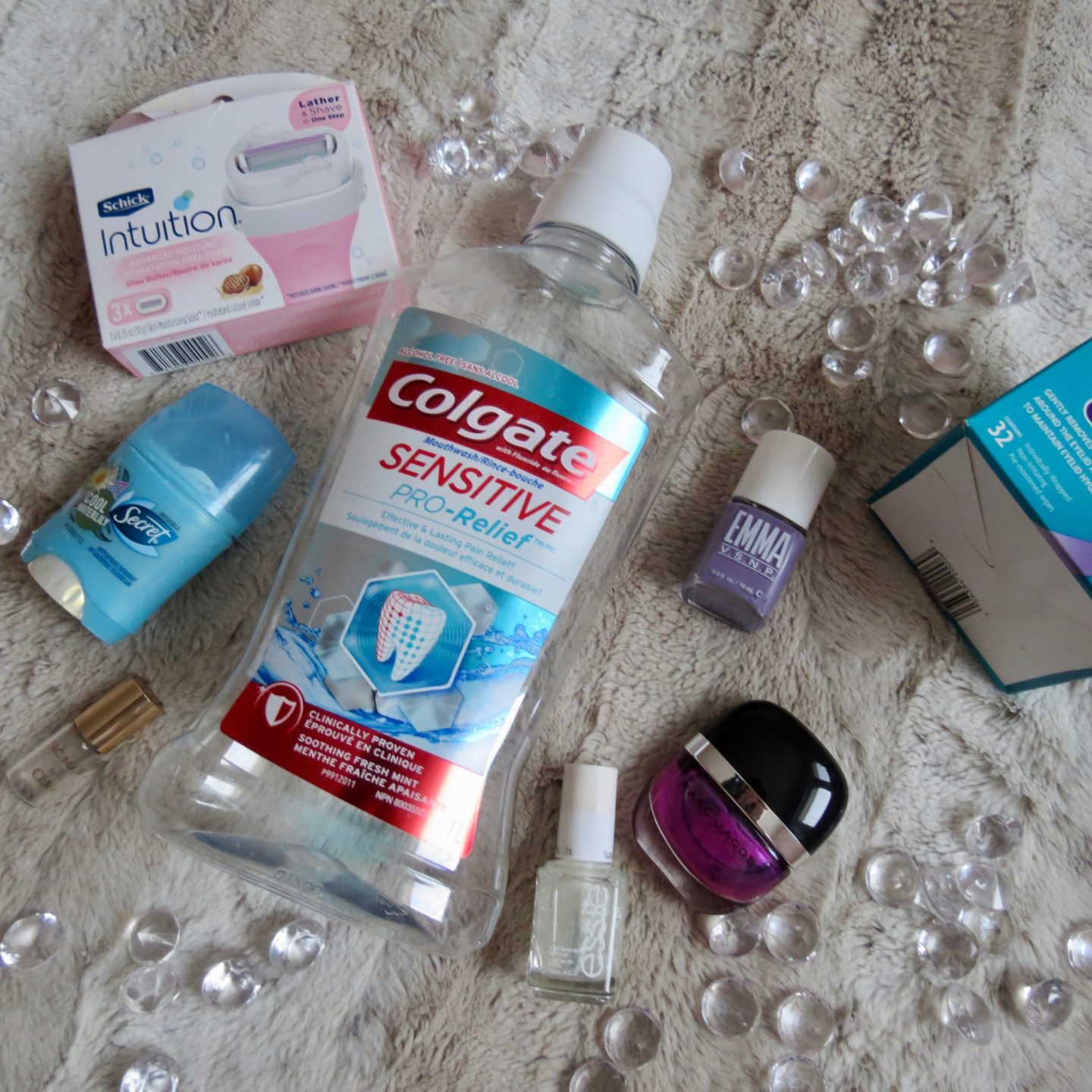 Samples
I spent some of my Sephora Beauty Insider points on this sample and it enjoyed it. Nomade has notes of oakmoss, freesia, and Mirabelle liquor which makes it a warm floral scent. I didn't automatically purchase a full-size bottle of this because by the time I was done the sample I was interested in other perfumes.
Purchase? NO. (c$122 – 50ml Full-Size)
Marc Jacobs Beauty Oui! Enamored Hi-Shine Nail Polish
I received this designer nail polish as a gift and used it till it expired. The nail polish was a purple metallic colour and it had average lasting powers. The unique packaging, however, was dysfunctional because it is hard to store.
Purchase? NO. (c$22 – 13ml)
Secret Fresh Cool Waterlily Antiperspirant
Once I finished a spray deodorant I started using this sample of a traditional antiperspirant and decided they're no longer for me. I am not fond of the fragrance and the white residue gets all over my clothes no matter how long I let it air dry.
Purchase? NO. (c$3.95 – 45g Full-Size)
Victoria's Secret Pomegranate Hydrating Body Lotion
I received this as a gift and did like the refreshing scent. I'm not purchasing body lotion anytime soon though because I have a couple left in my collection.
Purchase? NO. (c$?)
Other
Colgate Sensitive Pro-Relief Mouthwash
Once I finished the Biotene Dry Mouth Moisturizing Mouthwash I found this Colgate Sensitive Pro-Relief Mouthwash that was more affordable. The Colgate mouthwash is less drying than a normal mouthwash and the only reason why I didn't re-purchase it is because I found a Biotene dupe at the drugstore. I had been buying mouthwash off and on for a while without properly knowing the purpose of mouthwash. Now that I know it's importance, it is routinely kept in stock in my bathroom cabinet.
Re-Purchase? MAYBE. (c$7.97 – 1l)
Essie Pure Pearlfection LuxEffects Nail Polish
This glittery top coat by Essie has expired and has been discontinued. I liked the glittery snow effect it gave my nails in the Winter time.
Re-Purchase? NO. (c$? – 13.5ml)
Schick Intuition Advanced Moisture Shea Butter Razor Refills
I've been using these razor refills for a long time and have tried other alternatives but always went back to Schick Intuition. The razor refills are handy because they take two products – the razors and the solid shaving cream and combine it into one product.
Re-Purchase? YES. (c$12.47 – 3 Razor Refills)
Systane Lid Wipes (First Review)
My favourite eye lid wipes.
Re-Purchase? YES. (c$10.97 – 32 Wipes)
---
What products did you finish recently?
I find that after the holidays the number of body lotions I own double.