I am that person in your friend group who believes that Fall starts September 1st despite what the weather is outside. This week the weather began to slightly resemble Fall temperatures and I rushed into my closet to bring out my J Crew vest that I've been waiting to reveal.
When I immediately posted the outfit photo on Instagram, I captioned it "Ready to go camping… But not like real camping." and had a couple of friends comment #GLAMPING and I thought it was hilarious and spot on. Some people really are not too keen on camping in general, however, it all depends on location, there are some beautiful scenic places out there, for example, Iceland! You can find out more on how to camp in style there with 4×4 camper vans by going on over to rent.is.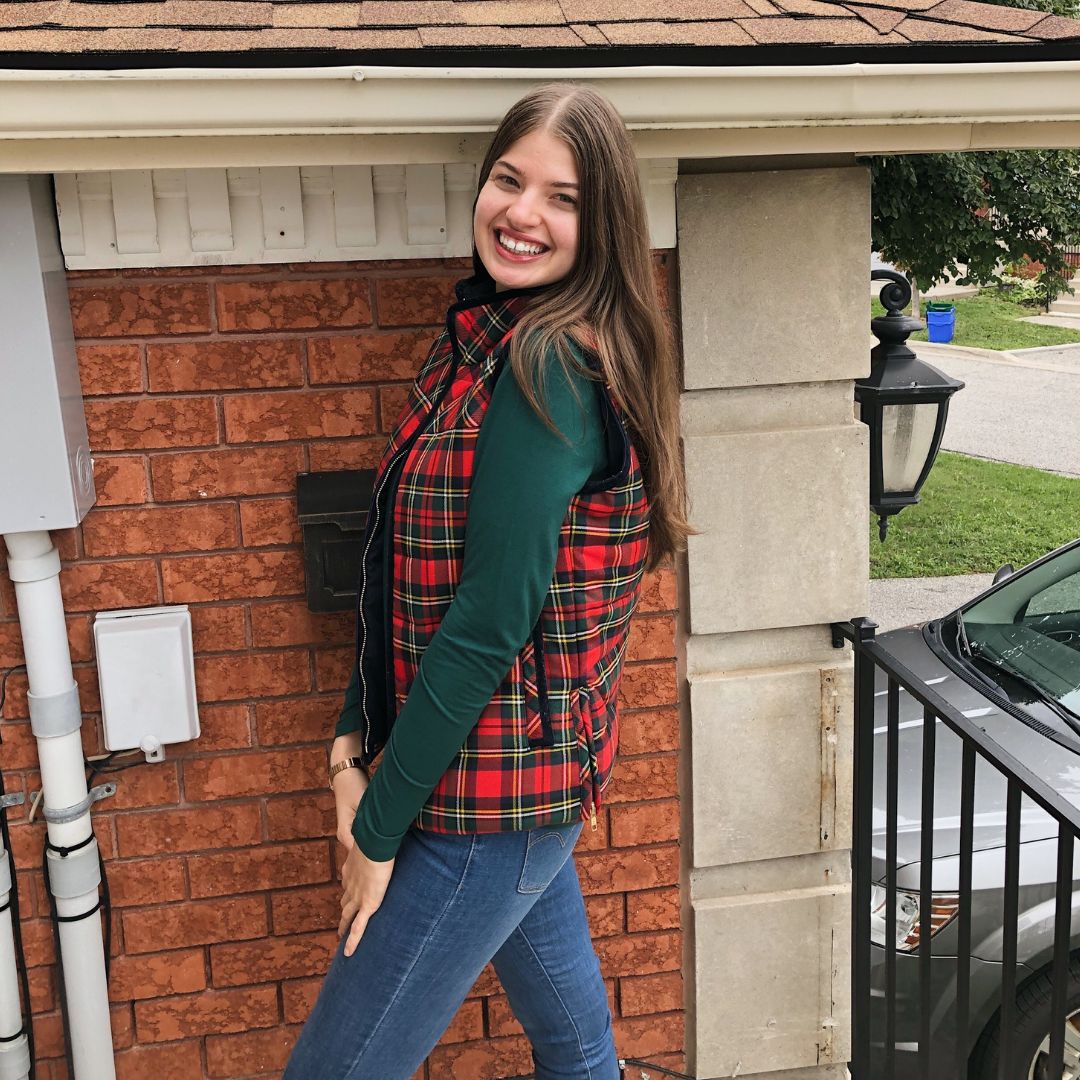 Glam + Camping = Glamping Outfit
Top – Old Navy Botanical Green Luxe Slim Fit V-Neck Tee
Old Navy luxe tees are the softest and most comfortable t-shirts. I make sure to pick up a variety of colours each season when Old Navy has their super cash days or when they're on sale because you get them for under $12 dollars. I bought this dark green long sleeve in September and love its rich colour.
Vest – J Crew Past Season Tartan Mountain Puffer Vest (Similar)
I bought this J Crew puffer vest on sale last year and knew from the moment I laid eyes on it that it would fit perfectly in my closet. I love how the bold tartan print makes an entrance and the detailing on the side zippers and the blue suede edging that just makes it such a gorgeous piece to own.
Bottoms – Levi's Blue Skinny Jeans (Similar)
A classic pair of blue skinny jeans that ties the whole outfit together.
Shoes – Adidas Black and White Gazelle Sneakers (Similar)
These shoes aren't shown the photos, however, I was wearing them due to comfort. I am currently ordering brown boots and think they would compliment the outfit better.
Handbag – ALDO Red Quilted Crossbody Handbag (Similar)
This handbag is also not shown in the photos. I wore a red handbag because it accentuates and matches the red in the tartan.
Thank you for reading and looking at this post. If you enjoy these Instagram outfit photos explained then let me know because I will continue to blog about them.


---
Do you prefer camping or glamping?
Let me know!