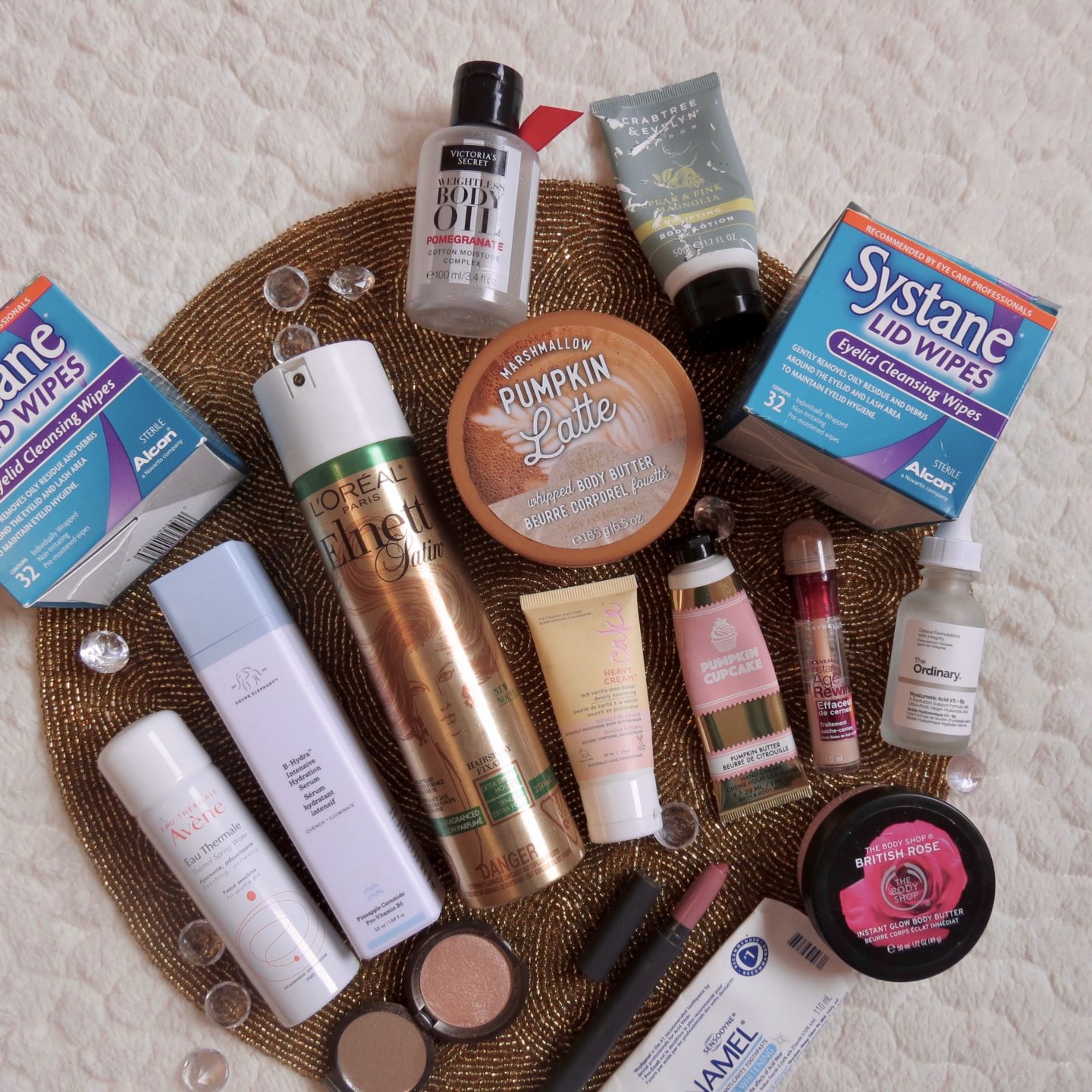 In February 2019, I was using more hand creams, body lotions, and body butters to combat the dry winter. Testing these lotions helps me recognize each of their specialities (ie. scent, hydration) and makes it easier to find new ones.
Here are the reviews of the products I finished last month. Including, the one hand cream and three body lotions.
Related: Products I Finished – January 2019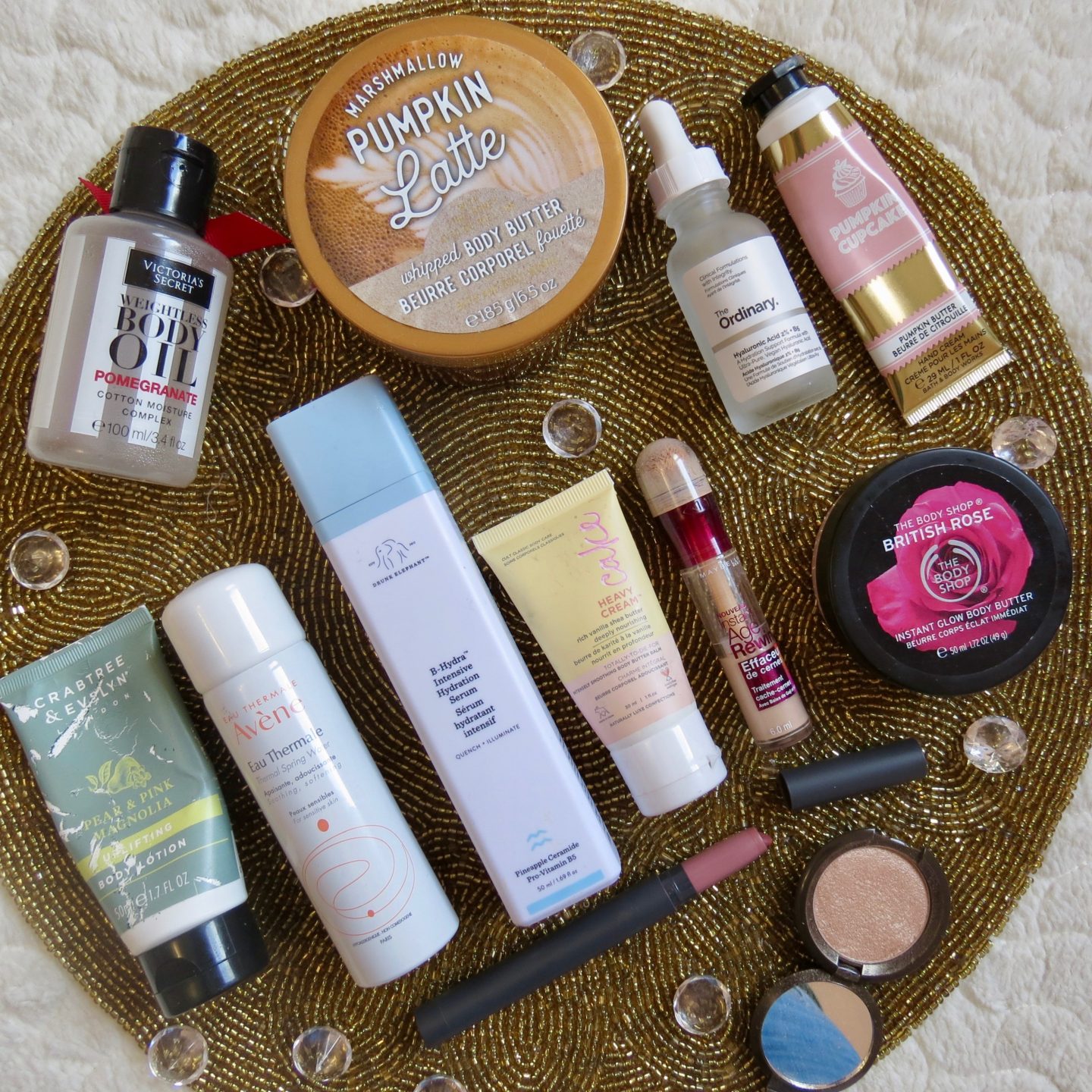 Products I Finished – February 2019
Skincare
Avene Thermal Spring Water Spray Travel Size (First Review)
My favourite thermal water face mist.
Re-Purchase? YES. (c$9.80 – 50ml Travel Size)
Bath and Body Works Marshmallow Pumpkin Latte Whipped Body Butter
I've written more than one blog post about pumpkins, so you could say I'm a fan. I bought this body butter in October 2017 and had no idea how potent it would smell. I smelled like a living pumpkin spice latte and needed to take breaks from using it because it was too much.
Re-Purchase? NO. (c$16.50 – 226g)
Drunk Elephant B-Hydra Intensive Hydration Serum (First Review)
My favourite hydrating gel serum.
Re-Purchase? YES. (c$64 – 50ml)
The Ordinary Hyaluronic Acid 2% + B5 (First Review)
My favourite hyaluronic acid serum.
Re-Purchase? YES. ($6.80 – 30ml)
Makeup
BECCA Glow on The Go Highlighter Set
When I discovered the BECCA Shimmering Skin Perfector in 2016, I wanted every shade. This is because the first shade I bought – Moonstone compliments to my skin tone. So, when I bought the shade Opal it was disappointing when it didn't flatter my skin tone.
Re-Purchase? NO. (c$29)
Maybelline Instant Age Rewind Eraser Dark Circle Treatment Concealer
One of the best drugstore concealers that is full coverage and appears natural on the skin. The packaging is not hygienic and the product becomes trapped in the sponge. It is more unsanitary than a traditional concealer with a doe foot applicator.
Re-Purchase? NO. (c$10.96 – 6ml)
Samples
Bath and Body Works Pumpkin Cupcake Hand Cream
Like the Marshmallow Pumpkin Latte Body Butter, the scent of this hand cream is potent. I did love the pink and gold packaging though.
Purchase? NO. (c$4 – 29ml Full-Size)
Bite Beauty Matte Crème Lip Crayon Glace
I did a Bite Beauty Matte Crème Lip Crayons campaign with Influenster Canada in 2015. These pigmented lip crayons I own are now expired and Glace is a best selling mauve colour. I still have the sample from last year's Sephora birthday gift and will not buy it in the future.

Purchase? NO. (c$28 – 1.56g Full-Size)
Cake Heavy Cream Intensively Soothing Body Butter Balm
I received this in an Ipsy bag and it was a delight. People would stop to tell me that I smelled like a dessert. I still have quite a few hand creams to finish though, so I may wait to buy it.
Purchase? MAYBE. (c$11.99 – 150ml Full-Size)
Crabtree & Evelyn Pear and Magnolia Uplifting Body Lotion
This floral body lotion has a thin watery texture that makes you overuse the product. I got under five uses out the tube.
Purchase? NO. (c$32 – 250ml Full-Size)
The Body Shop British Rose Instant Glow Body Butter
I enjoyed the texture of this body butter, however, I found the classic scent to be a bit strong for me.
Purchase? NO. (c$21 – 200ml Full-Size)
Victoria's Secret Pomegranate Weightless Body Oil
When I first started to use this body oil I was curious to how it would compare to a shower gel or body lotion. The scent is refreshing, yet I found applying body oil to be messy.
Purchase? NO. (c$?)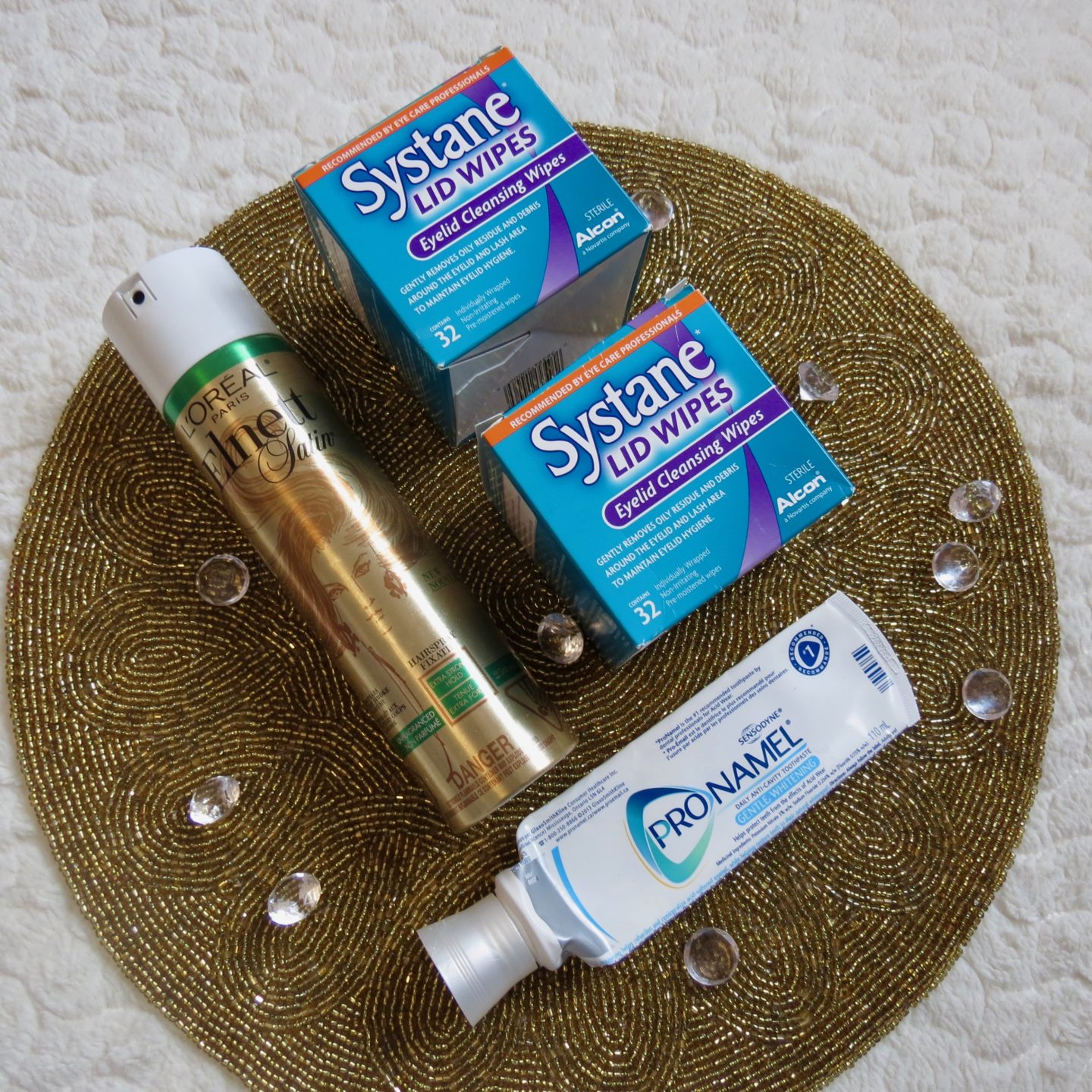 Other
L'Oréal Paris Elnett Satin Extra Strong Hold Hairspray
I purchased this hairspray three years ago, which kind of lets you know how rarely I style my hair. The combination of my good curling wand and this hairspray lets my hair stay styled for about two days. It's a salon favourite and it doesn't make your hair feel sticky or heavy.
Re-Purchase? YES. (c$12.49 – 250ml)
Sensodyne Pronamel Gentle Whitening Toothpaste (First Review)
My favourite SLS-free toothpaste.
Re-Purchase? YES. (c$6.99 – 75ml)
Systane Lid Wipes (First Review)
My favourite eye-lid cleansing wipes.
Re-Purchase? YES. (c$10.97 – 32 Wipes)
---
What beauty products have you finished?
Let me know in comments!