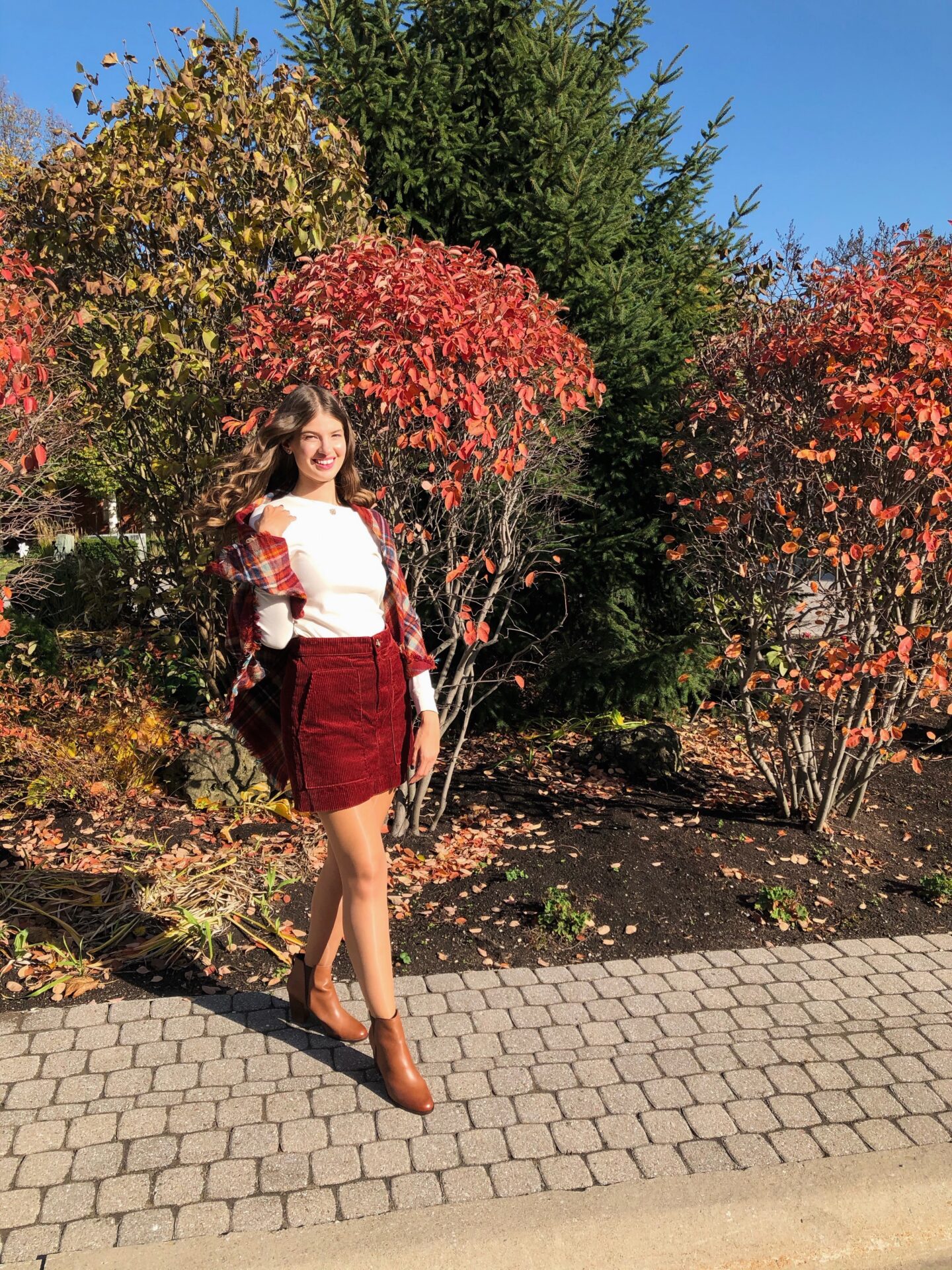 I feel best in fall fashion with crimson colours and cozy fabrics. There is something so stylish about layers of sweaters, scarves, and an array of boots.
I have to admit that I adore mixing and matching my pieces to make new outfits. Which is probably why you've seen variations of this outfit before.
I may not be wearing a mask in these photos, but best believe my Old Navy Triple-Layer Cloth Pleated Adult Face Mask is always on or close-by.
Related: Preppy in Plaid Outfit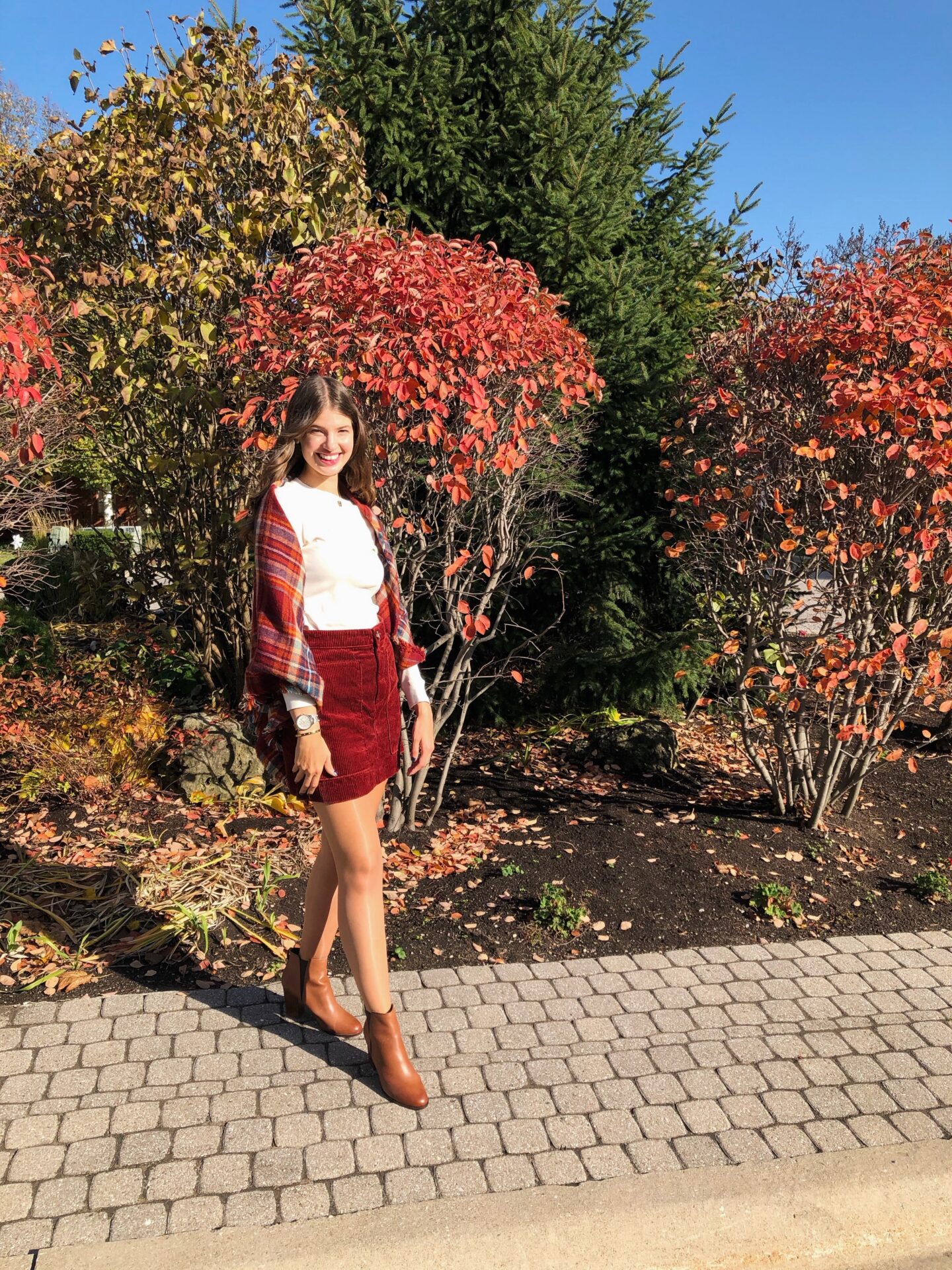 Crimson Coloured Outfit
Top – Lauren Ralph Lauren Cream Equestrian Styled Long Sleeve (Similar)
This top is a WINNERS (Canadian Marshalls or TJMAXX) find. I adore the suede elbow patches because it's a small detail that elevates the whole top.
Bottoms – H&M Copper Red Corduroy Skirt (Similar)
I bought this skirt a year ago and love its deep colour and corduroy fabric. It's definitely warm enough to wear in fall and winter.
Scarf – Garage Clothing Copper Red and Teal Plaid Blanket Scarf (Similar)
This scarf is magical. I was influenced by the store's marketing tactic when this scarf was placed in my dressing room. I feel like the red and teal plaid adds such warmth to a cozy outfit.
Shoes – Aldo Cognac Press Ankle Boots (Similar)
A classic pair of rounded brown ankle boots.
Jewellery – Kate Spade New York Gold Brilliant Statements Crystal Trio Prong Studs, Kate Spade New York Gold-Tone Stone Hinged Bracelet, Etsy Custom Brites 14k Gold Filled Monogram Necklace, and Fossil Sade Multifunction Two-Tone Stainless Steel Watch.
In 2012, I ordered my first monogram necklace off of Etsy and wore every day with pride. Due to it being over worn the bright gold pendant has dulled to a pale gold and I decided this year in 2020 I was going to invest in a new monogram necklace from Etsy.
The difference between my first monogram necklace and my newest one is that the monogram pendant is attached to both sides of the gold chain. With my first monogram necklace, I could separate the pendant and put it on any chain I desired. My new monogram necklace is also a lot daintier and it sits perfectly between my collar bones.
In my Everlasting Evergreen Outfit post, I mentioned my newfound interest in watches. I bought this Fossil two-tone watch because it compliments both my silver and gold jewellery. I also love how the small crystals are encased.
Nails – Essie Broom With a View
This is a brand new nail polish from the Essie 2020 Limited Edition Blue Moon Collection. It's a sparkly navy blue nail polish with such a fun spooky name.
Lipstick – Maybelline New York Color Sensational Made For All Lipstick in Plum For Me
Maybelline New York created a lipstick collection called Made For All. They tested 7 different coloured lipsticks (ie. a red, a plum, etc) on 50 diverse skin tones and found that they were flattering on everyone. I wore the shade Plum For Me and it's a gorgeous burgundy-purple shade with a satin finish.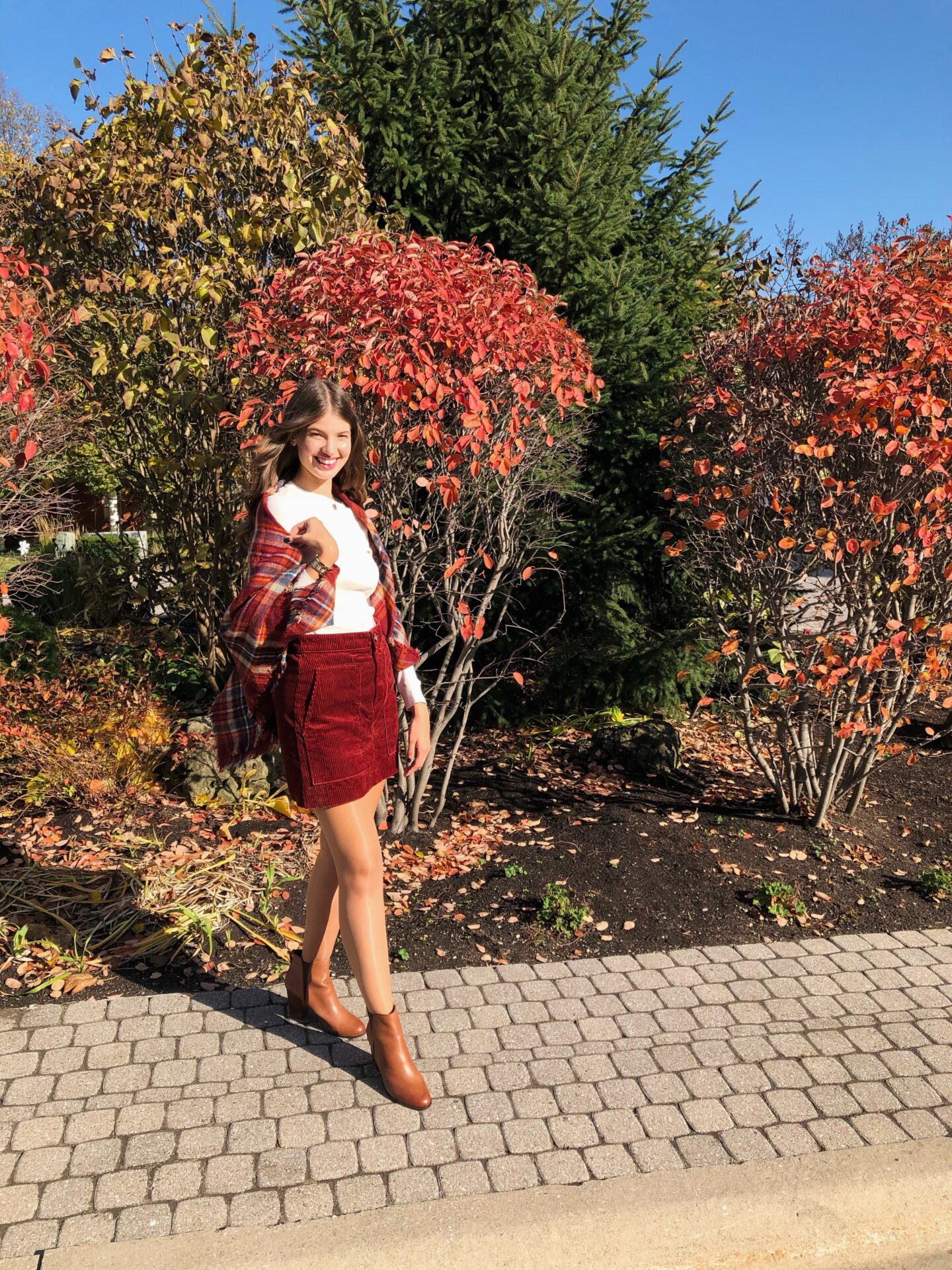 Makeup Look
Related: My Favourite Foundation
Not Shown
Mask – Old Navy Triple-Layer Cloth Pleated Adult Face Mask in Burgundy
Coat – London Fog British Khaki Wendy Double Breasted Trench Coat With Removable Hood (Similar)
---
Do you love blanket scarves?
Let me know.