August was full of deadlines and events that were keeping me away from the blog. Now, that we're in the month of September I cannot wait to create content and continue this series.
Related: Products I Finished – July 2018
Here are my August 2018 empties!
PRODUCTS I FINISHED – AUGUST 2018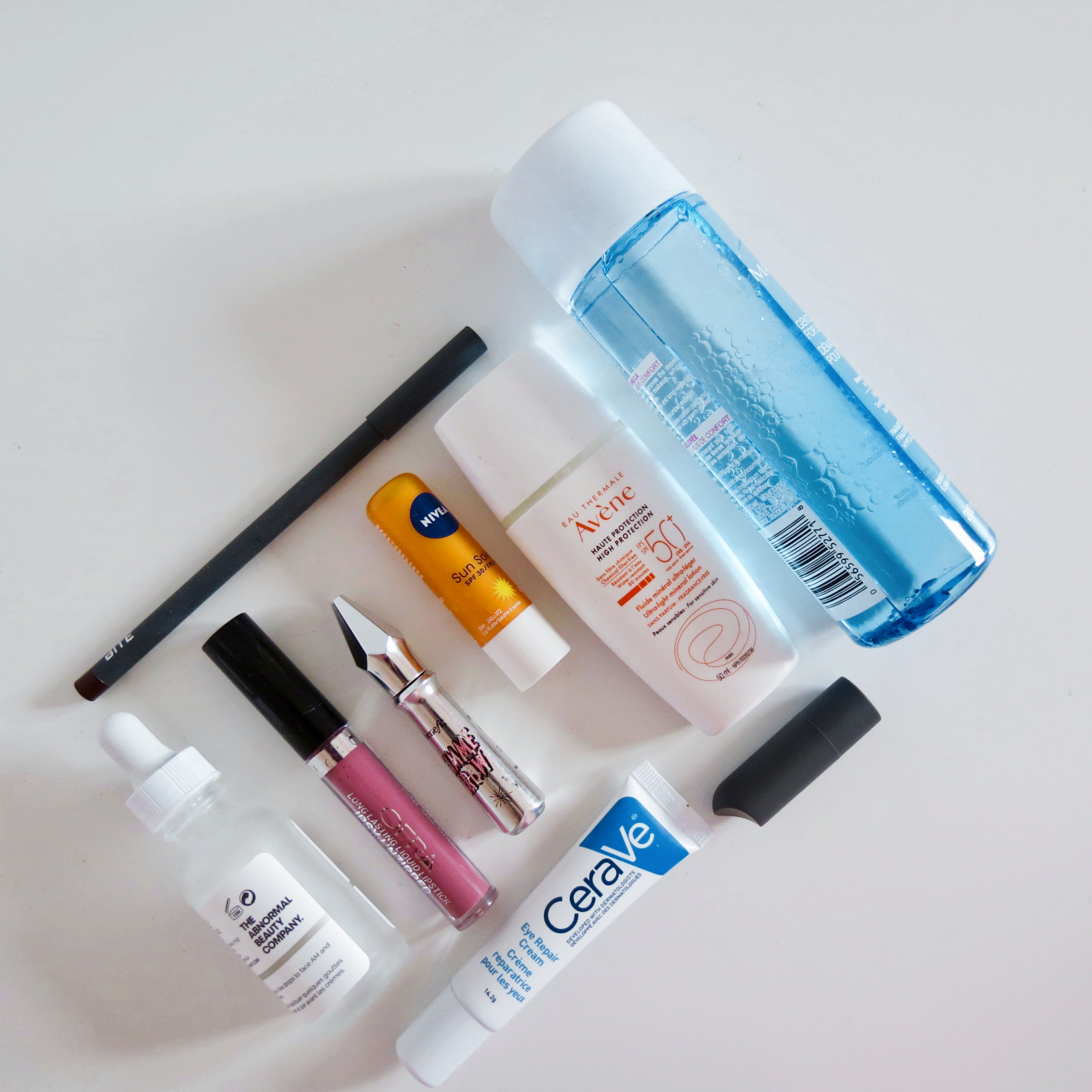 Skincare
Avene Ultra Light Mineral Lotion Face SPF 50
This is the first facial sunscreen I've tried that gave me no blemishes. I did, however, experience a lot of pilling and white cast which is why I've switched to the Avene Complexion Correcting Shield SPF 50.
Re-Purchase? NO. (c$28 – 50ml)
I had an allergic reaction to this eye cream and will tell anyone that they should be cautious about using it.
Re-Purchase? NO. (c$19.97 – 14.2g)
Marcelle Gentle Makeup Remover For Sensitive Eyes
I purchased this eye makeup remover because it was a better buy than my usual. Unfortunately, it stings my eyes and has a strong cucumber scent even though it claims to be fragrance-free.
Re-Purchase? NO. (c$12.47 – 200ml)
The Ordinary Hyaluronic Acid 2% + B5 (First Review)
This is my favourite inexpensive hyaluronic acid serum. I use one dropper of product twice a day and I go through one bottle a month.
Re-Purchase? YES. (c$6.80 – 30ml)
Makeup
Benefit Gimmie Brow 3 Volumizing Fiber Gel
This is my favourite high-end eyebrow mascara. It's expensive though for its purpose and I am now trying the L'Oreal Brow Stylist Boost & Set Volumizing Brow Mascara as a drugstore alternative.
Re-Purchase? MAYBE. (c$32 – 3g)
Nivea Sun Soleil SPF 30 Lip Balm
It's not a myth to say that it's important to wear SPF lip balm all seasons. However, not all SPF lip balms are the same and this Nivea Sun Soleil SPF 30 does have a white cast. Which is why I recommend others like the Nivea Soothing Care SPF 20.
Re-Purchase? NO. (c$1.98 – 4.8g)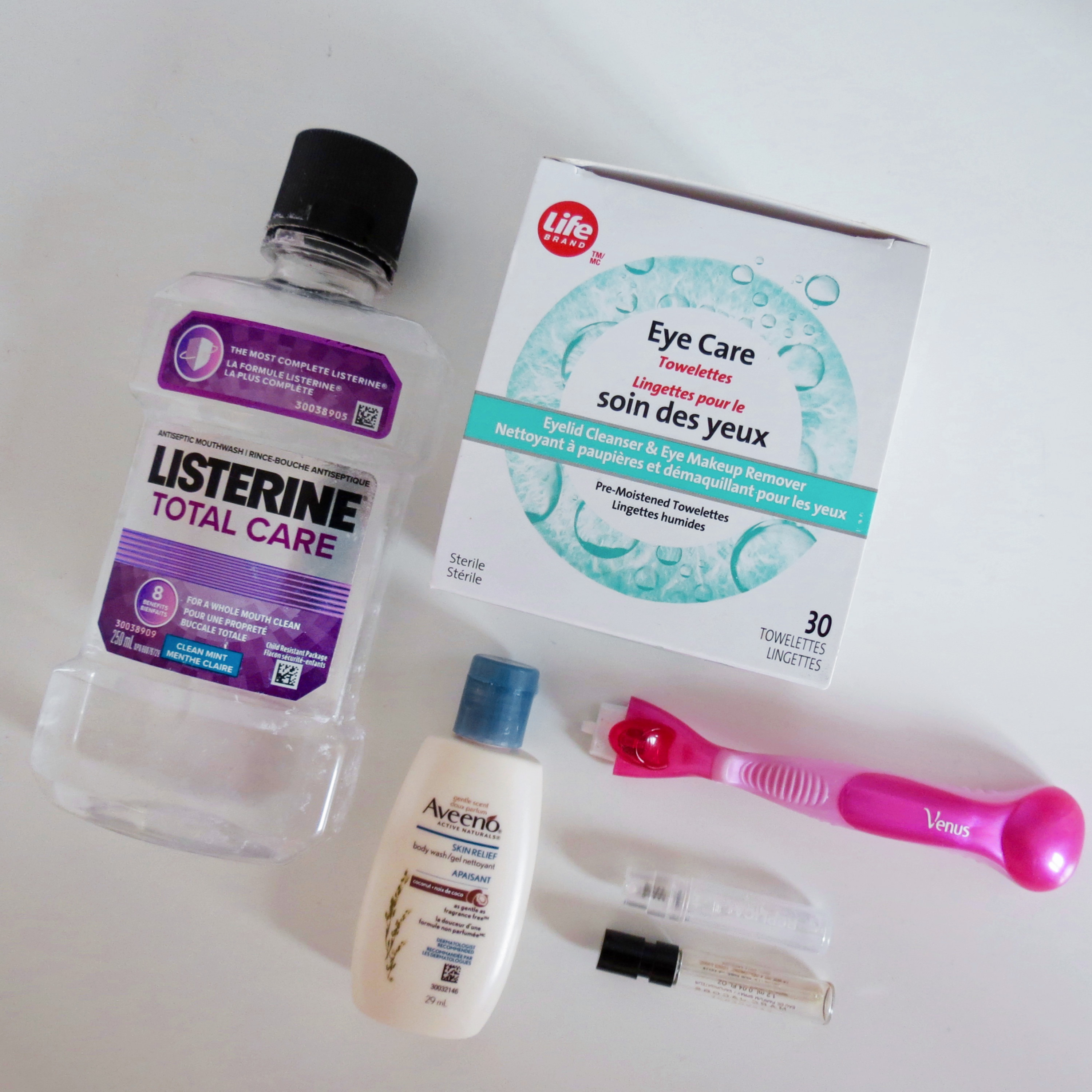 Samples
When first skimming the sample I was excited to see the words fragrance free till I looked closer and saw 'as gentle as fragrance free.' This is false advertising and fragrance-free shouldn't be printed anywhere on the bottle.
Purchase? NO. (c$8.97 – 532ml Full Size)
I received this brown lip pencil in a blog campaign and hardly wear it because it's such a statement colour. However, I do have another Bite Beauty lip pencil in a nude pink and I wear it regularly.
Purchase? NO. (c$20 – 1.4g)
Bite Beauty Amuse Bouche Whiskey Lipstick
Similar to the Bite Beauty 044 Lip Pencil, I received a matching brown lipstick with the lip pencil and never wear it. My philosophy is not to keep things for one-day occasions that never come.
Purchase? NO. (c$30 – 4.35g Full Size)
Listerine Total Care Clean Mint Antiseptic Mouthwash (First Review)
This sample was a promotion and came with my other full-size Listerine. There is nothing unordinary about this mouthwash other than its purple colour.
Purchase? MAYBE. (c$12.99 – 1l Full Size)
Marc Jacobs Decadence Eau de Parfum
I've purchased this perfume before and adored its intoxicating scent with notes of Italian plum, Bulgarian rose, jasmine sambac, and liquid amber. I won't re-purchase it because I believe that it's not my signature scent.
Purchase? NO. (c$115 – 50ml Full Size)
Maison Margiela Replica Beach Walk Eau de Toilette
This perfume is seasonal, expensive, and not even an Eau de parfum. There are so many amazing high-quality perfumes on the market, you don't have to become hypnotized by minimalistic packaging and aesthetics.
Purchase? NO. (c$150 – 100ml Full Size)
OFRA Ipsy Unzipped Long Lasting Liquid Lipstick
If you have to put a coupon code on the outside of your liquid lipstick to sway me to purchase, you've already lost me.
Purchase? NO. (c$20 – 6g Full Size)
Venus Comfortglide White Tea Razor
I received this razor in a swag bag and wanted to compare it my Schick Intuition razor. Shockingly, I went through three cartridges in two months because the blades became extremely dull after only a handful of uses. I also went to the drugstore and was surprised to find out that the Venus refill cartridges were more expensive than the Schick Intuition cartridges and I was complaining about their prices.
Re-Purchase? NO. (c$ – 3 Refills)
Other
Life Brand Eye Care Towelettes
Due to an eye condition, I use eyelid cleanser wipes twice a day. I decided to try out the generic pharmacy brand and found that they didn't foam up as much as the name brand ones did which is why I will not be re-purchasing them.
Re-Purchase? NO. (c$12.99 – 30 Towelettes)
Thank you so much for reading this addition to the series. See you next month with more mini product reviews.


---
What beauty products have you finished?
Let me know!