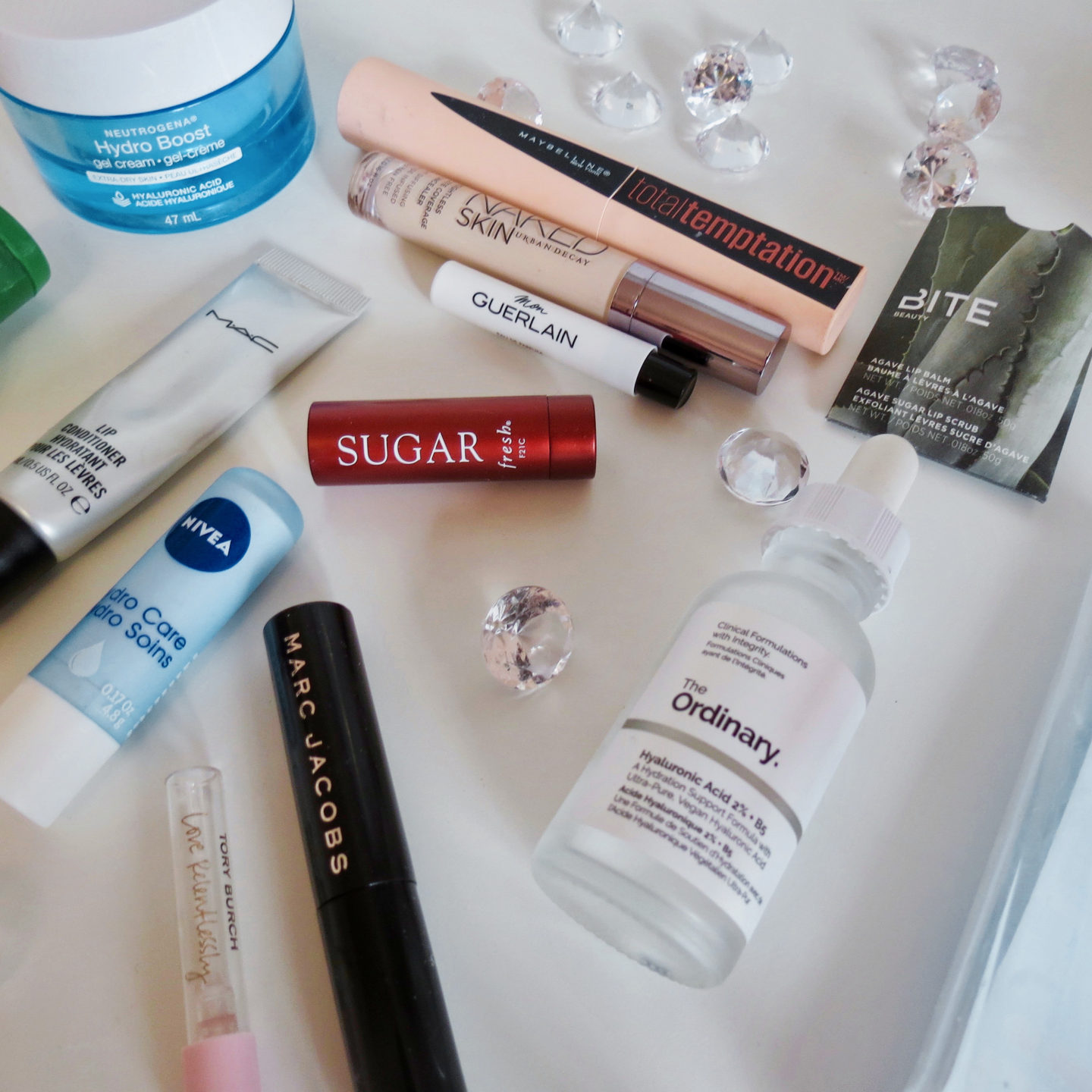 Happy 3rd month anniversary of this series! I've been doing pretty well on finishing up products in my collection and only re-purchasing things I've no inventory of. In the month of April, I emptied thirteen products and I can't wait to share my reviews with you.
Related: Products I Finished – March 2018
Products I Finished – April 2018
Skincare
When looking for an eye makeup remover I try to find ones without dyes and fragrances in the ingredient list. This Simple one doesn't have either and it has hydrating vitamin B5 and antioxidant vitamin E in it.
Re-Purchase? YES. (C$8.99 – 100ml)
Makeup
During the Holiday season, I purchased a Fresh lip treatment set that included six minis. I finished the clear lip treatment first and loved its sweet limoncello flavor. I also loved how buttery it felt and how it left no residue on the lips. The reason why I'm not repurchasing it now is that I have other lips balms to finish.
Re-Purchase? MAYBE. (C$29 – 4.3g)
This lip conditioner has the same consistency and feeling as Eucerin Aquaphor Healing Ointment with an additional vanilla scent. I thought the product was lovely however I'm not re-purchasing it anytime soon because I've discovered that I don't like lip balms with a squeeze tube packaging.
Re-Purchase? NO. (C$19 – 15ml)
I was disappointed by this mascara because the packaging inside became damaged and suddenly the coconut fragrance didn't really smell quite like coconut anymore. This incident taught me that I shouldn't have more than one opened mascara in my collection and that I should keep track of the expiration date.
Re-Purchase? NO. (C$8.96 – 8.25ml)
I've tried a lot of Nivea lip balms and I'm usually left unsatisfied because they leave a white residue on your lips. However, I was pleasantly surprised with the Hydro Care version because it goes on clear and has aloe vera in the ingredient list.
Re-Purchase? MAYBE. (C$3.49 – 4.8g)
I've gone through at least five of these concealers and considered it my holy grail until I was swayed to try the NARS Soft Matte Complete Concealer. One day, I was going through my makeup and noticed that I was one use away from finishing this Urban Decay concealer – so I applied it on my under-eyes and lids. The next morning, I noticed that I had a tiny pimple close to my left eyebrow and knew it was the Urban Decay concealer that caused it because I'd been applying the NARS concealer in that area for months and hadn't had an eyebrow pimple since switching.
Re-Purchase? NO. (C$35 – 5ml)
Samples
I received a sample of this lip balm in the 2018 Sephora birthday gift and couldn't take full advantage of it because of how the sample was packaged.
Purchase? NO. (C$20 – 4.20g)
I received a sample of this mascara in a Sephora Marc Jacobs 500 points V.I.B. box and fell in love with it. There is a 'wow' factor to this mascara because it gives your lashes an insane amount of volume and without looking too clumpy or heavy. You can also skip your liquid eyeliner with this mascara because it has such deep black pigmentation. However, I can't purchase the full-size mascara knowing that there are many great drugstore alternatives out there for a fraction of the price.
Purchase? MAYBE. (C$33 – 9.5ml)
A warm floral scent with notes of pink pepper, rose, orris, and sandalwood. It wasn't a memorable scent for me.
Purchase? NO. (C$78 – 30ml)
A gorgeous subtle feminine scent with notes of jasmine, lavender, and vanilla. It also wasn't a memorable scent for me.
Purchase? NO. (C$80 – 30ml)
Other
My family members make jokes that I'm a mouthwash influencer because I'm genuinely interested in why there are so many brands of mouthwash out there. This Colgate one despite being alcohol-free tingles and has the power to stain your countertops with its blue dye. If you have black granite countertops or something dark, then it won't be as much of a problem. However the staining of my countertops is enough for me not to re-purchase.
Re-Purchase? NO. (C$4.99 – 1L)
Previously Reviewed
Thank you so much for reading this post and having an interest in this series!
---
What beauty products have you finished?